NCERT Solutions Class 12 Economics Perfect Competition with answers available in Pdf for free download. The NCERT Solutions for Class 12 Economics with answers have been prepared as per the latest syllabus, NCERT books and examination pattern suggested in Standard 12 by CBSE, NCERT and KVS. Solutions to questions given in NCERT book for Class 12 Economics are an important part of exams for Grade 12 Economics and if practiced properly can help you to get higher marks. Refer to more Chapter-wise Solutions for NCERT Class 12 Economics and also download more latest study material for all subjects
Perfect Competition Class 12 NCERT Solutions
Class 12 Economics students should refer to the following NCERT questions with answers for Perfect Competition in standard 12. These NCERT Solutions with answers for Grade 12 Economics will come in exams and help you to score good marks
Perfect Competition NCERT Solutions Class 12
NCERT Solutions Class 12 Economics Perfect Competition. NCERT book for Economics in class 12 is strongly recommened by teachers and the CBSE and NCERT boards. Please download the NCERT solutions for class 12 Economics free in PDF made by teachers of the best schools in India. These solutions are carefully compiled to give detailed understanding of the concepts and also steps of solutions. The NCERT solutions are free to download in pdf format. Please refer to the download link below to download the pdf file and also refer to other chapters and subjects to get the solutions to Economics NCERT book questions and exercises.
Perfect Competition

Question 1. What are the Characteristics of a perfectly competitive market? [3 Marks]
Answer:
1. Large number of buyers and sellers
2. Homogeneous product
3. Free entry and exit of firms
4. Perfect knowledge about the market
5. Perfect mobility of factors of production
6. Absence of transportation and selling cost
Question 2. What is price line under perfect competition? [3 Marks]
Answer :
1. The price line shows the relationship between the market price and a competitive firm's output level,
2. The vertical height of the price line is equal to the market price as shown in the given figure.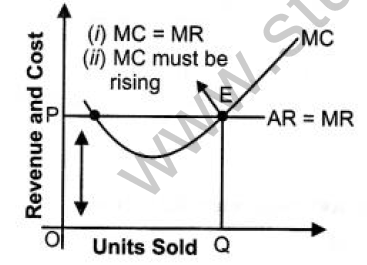 Question 3. What is the relation between market price and average revenue of a price taking firm (i.e. perfectly competitive firm)? [1 Mark]
Answer: The average revenue (AR) of a firm is defined as total revenue per unit of output sold. Let a firm's output be Q and the market price be P, then TR equals P x Q. Hence, In other words, for a price-taking firm, average revenue equals the market price.

Please click on link below to download NCERT Solutions Class 12 Economics Perfect Competition.
Click for more Economics Study Material
›