CBSE Class 12 Chemistry Syllabus 2021 2022 available in Pdf for free download. The latest syllabus for Class 12 Chemistry have been issued by CBSE based on which Grade 12 students will have to prepare for examinations by CBSE, NCERT and KVS in Standard 12. The latest CBSE syllabus has been used to design NCERT book for Class 12 Chemistry based on which exams for Grade 12 Chemistry will be conducted. Refer to MCQ Questions for Class 12 Chemistry with answers and also download more latest study material for all subjects
Chemistry Class 12 CBSE Syllabus
Class 12 Chemistry students should refer to the following curriculum for NCERT Class 12 Chemistry. These CBSE NCERT KVS Syllabus for Grade 12 Chemistry will be very useful for preparing for upcoming exams and help you to score good marks
Chemistry CBSE Syllabus Class 12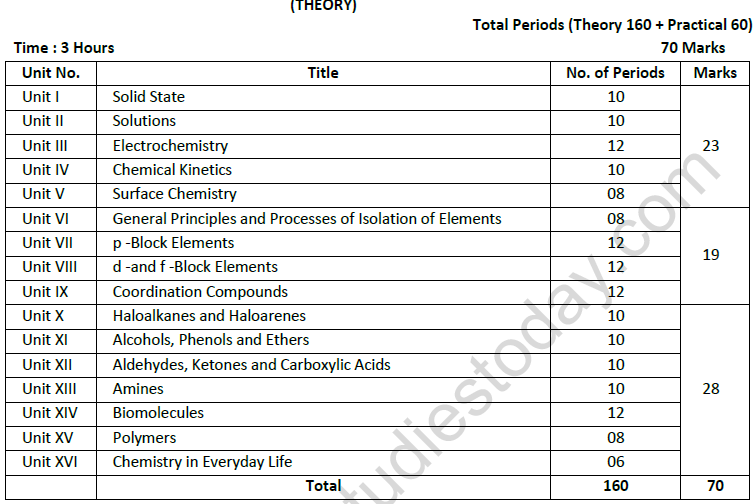 Unit I: Solid State 10 Periods
Classification of solids based on different binding forces: molecular, ionic, covalent and metallic solids, amorphous and crystalline solids (elementary idea). Unit cell in two dimensional and three dimensional lattices, calculation of density of unit cell, packing in solids, packing efficiency, voids, number of atoms per unit cell in a cubic unit cell, point defects, electrical and magnetic properties.
Band theory of metals, conductors, semiconductors and insulators and n and p type semiconductors.
Unit II: Solutions 10 Periods
Types of solutions, expression of concentration of solutions of solids in liquids, solubility of gases in liquids, solid solutions, Raoult's law, colligative properties - relative lowering of vapour pressure, elevation of boiling point, depression of freezing point, osmotic pressure, determination of molecular masses using colligative properties, abnormal molecular mass, Van't Hoff factor.
Unit III: Electrochemistry 12 Periods
Redox reactions, EMF of a cell, standard electrode potential, Nernst equation and its application to chemical cells, Relation between Gibbs energy change and EMF of a cell, conductance in electrolytic solutions, specific and molar conductivity, variations of conductivity with concentration, Kohlrausch's Law, electrolysis and law of electrolysis (elementary idea), dry cell-electrolytic cells and Galvanic cells, lead accumulator, fuel cells, corrosion.
Please click the link below to download CBSE Class 12 Chemistry Syllabus 2021 2022
Click for more Chemistry Study Material
›