Download printable Other Subjects Class 11 Worksheets in pdf format, CBSE Class 11 Painting And Sculpture The Art Of Indus Valley Bull Seal Worksheet has been prepared as per the latest syllabus and exam pattern issued by CBSE, NCERT and KVS. Also download free pdf Other Subjects Class 11 Assignments and practice them daily to get better marks in tests and exams for Grade 11. Free chapter wise worksheets with answers have been designed by Standard 11 teachers as per latest examination pattern
Worksheet for Class 11 Other Subjects Painting And Sculpture The Art Of Indus Valley Bull Seal
Class 11 Other Subjects students should refer to the following printable worksheet in Pdf for Painting And Sculpture The Art Of Indus Valley Bull Seal in Grade 11. This test paper with questions and solutions for Standard 11 Other Subjects will be very useful for tests and exams and help you to score better marks
Painting And Sculpture The Art Of Indus Valley Bull Seal Class 11 Other Subjects Worksheet Pdf
Art of Indus Valley/ Study and appreciation of Seal & Painted Earthenwares
BULL SEAL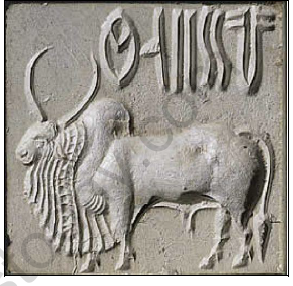 Medium: Stone
Technique: Carving
Size: 2.5 x 2.5 x 1.4 cm
Location: Mohenjo-daro
Circa: 2500 B.C.
Archaeologists have discovered thousands of seals, usually made of *steatite with beautiful figures of animals, such as unicorn bull, rhinoceros, tiger, elephant, bison, goat, buffalo, etc. The realistic rendering of these animals in various moods is remarkable. The purpose of producing seals was mainly commercial. It appears that the seals were also used as amulets, carried on the persons of their owners, perhaps as modern-day identity cards. The standard Harappan seal was a square plaque 2×2 square inches, usually made from the soft river stone, steatite.
Earthenwares (Jar)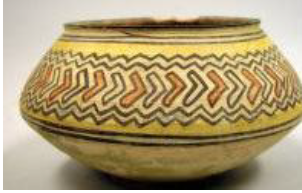 Subject: Painted Earthen Jar
Medium: Clay
Location: Mohenjo-Daro
Technique: Terra-cotta
Painted Earthen Jar found in Mohenjo-Daro, this jar is made on a potter's wheel with clay. The shape was manipulated by the pressure of the crafty fingers of the potter. After baking the clay model, it was painted with black colour. High polishing was done as a finishing touch. The motifs are of vegetables and geometric forms. Designs are simple but with a tendency towards abstraction. Polychrome pottery is rare and mainly comprises small vases decorated with geometric patterns in red, black, and green, rarely white and yellow.
Please click on below link to download CBSE Class 11 Painting And Sculpture The Art Of Indus Valley Bull Seal Worksheet
Books recommended by teachers