Read and download free pdf of CBSE Class 7 Social Science Geography Human Environment Assignment. Get printable school Assignments for Class 7 Social Science. Standard 7 students should practise questions and answers given here for Social Science in Grade 7 which will help them to strengthen their understanding of all important topics. Students should also download free pdf of Printable Worksheets for Class 7 Social Science prepared as per the latest books and syllabus issued by NCERT, CBSE, KVS and do problems daily to score better marks in tests and examinations
Human Environment- Settlements, Means of Transport and Communication
Answer the following questions in approximately in 1-15 words:-
Q 1. How does agriculture affect human settlement?
Ans. Agriculture requires permanent settlement at a place. By this, the surrounding area of the fields starts developing.
Q 2. Where did people live, first of all?
Ans. First of all, man started living along the rivers. Because, the Water for daily needs was easily available in these areas.
Q 3. How does topography of a place affect the development of human settlements of a place?
Ans. The area with plain topography always act as a great facility of habilitation. It is easy to cultivate crops, construct roads and lay railway lines in plain area than in the rugged topography.
Q 4. How are roadways important?
Ans. Roadways connect one place to another. These provide from door to door facility. Roads can be constructed even in mountainous areas.
Answer the following questions in approximately 50-60 words:-
Q 5. Write down the importance of railways while explaining them.
Ans. Railways- Railways carry a large quantity of goods and large number of passengers. At present, trains are run by electric and diesel engines.
Metros- Metros run not only on the surface of the earth but underground also. Metros have become very popular in big cities.
Important railways in world- 1. The railways of Soviet Union (Russia) 2. The railways of Japan 3. The railways of France.
Q 6. Write about the important waterways/ ocean routes of the world.
Ans. Waterways are the most economical ways of transportation. The important waterways/ ocean routes of the world are:-
1. North Atlantic Ocean Waterway
2. The Pacific Ocean Waterway
3. Cape Waterway
4. Suez Canal Waterway
5. Panama Canal.
Q 7. Write about the internal waterways.
Ans. The large rivers and lakes act as internal waterways. The important internal waterways of the world are:- 1. Ganga Brahmaputra River (India) 2. Yangtze Kiang River (China) 3. Amazon River (South America)
Q 8. World has become a global village with the development of airways, illustrate the fact with example.
Ans. Airways is the fastest means of transportation. All the countries of world are interconnected through airways. We can travel to any part of the word in very less time. Thus, the world has become a 'global village'.
Q 9. Which are the means of communication? What are the advantages of their development?
Ans. Means of communication increase a great link between people. Postal services, Telegram, telephone, mobile phone, radio, magazine, newspapers, internet etc. are the best means of communication. With the help of these means, a message can we conveyed to many people at one time. Through the internet services, we can get knowledge about any corner of the world.
Q 10. Write in detail about Suez Canal.
Ans. Suez Canal waterway is an important international waterway. It connects Mediterranean Ocean Sea and Red Sea. This waterway connects the European countries with the countries of the Southern Asia, Australia and West Africa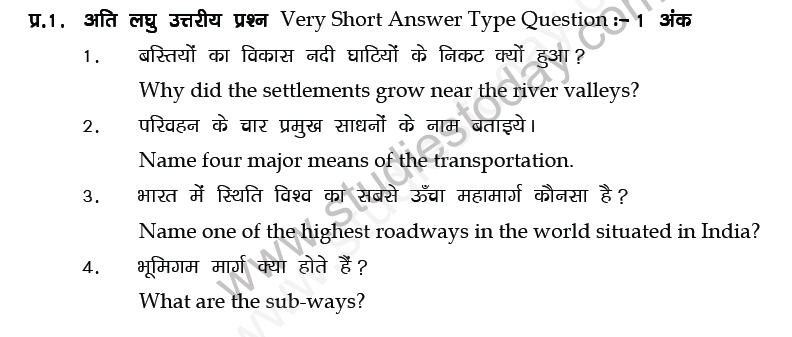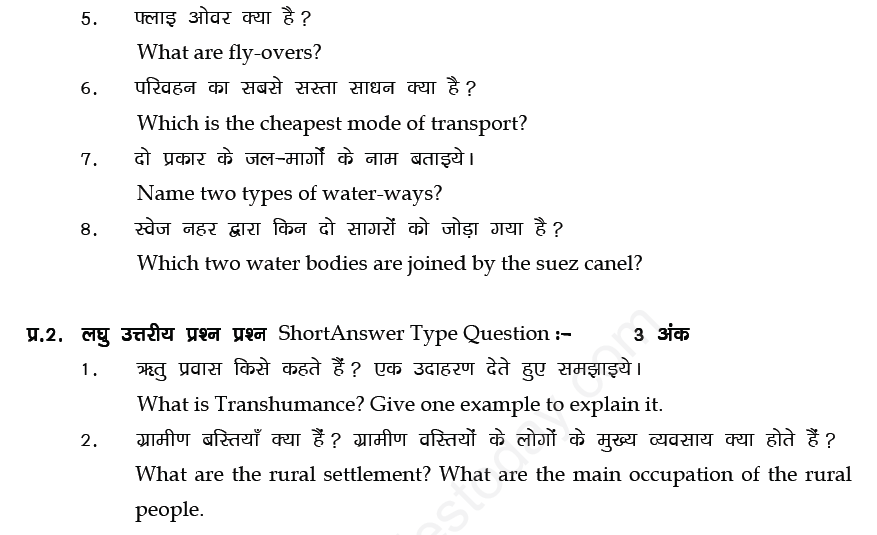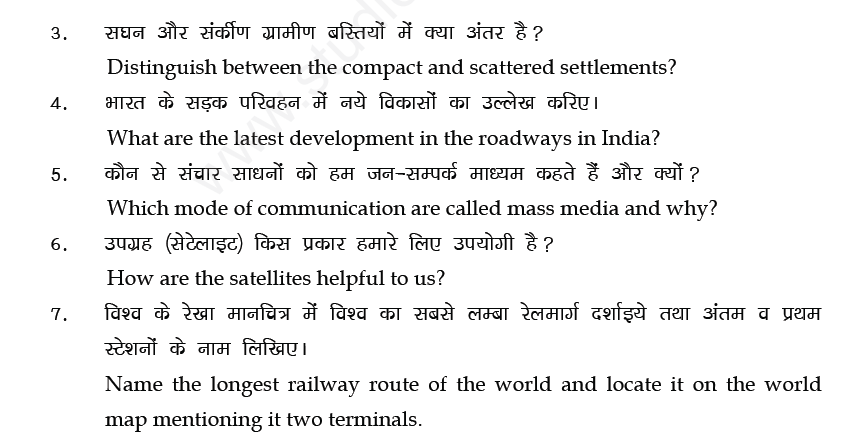 Click on link below to download CBSE Class 7 Social Science Geography Human Environment Assignment
Click for more Social Science Study Material
›