Read and download free pdf of CBSE Class 7 Social Science Institutions of democracy Assignment. Get printable school Assignments for Class 7 Social Science. Standard 7 students should practise questions and answers given here for Institutions Of Democracy Social Science in Grade 7 which will help them to strengthen their understanding of all important topics. Students should also download free pdf of Printable Worksheets for Class 7 Social Science prepared as per the latest books and syllabus issued by NCERT, CBSE, KVS and do problems daily to score better marks in tests and examinations
Assignment for Class 7 Social Science Institutions Of Democracy
Class 7 Social Science students should refer to the following printable assignment in Pdf for Institutions Of Democracy in standard 7. This test paper with questions and answers for Grade 7 Social Science will be very useful for exams and help you to score good marks
Institutions Of Democracy Class 7 Social Science Assignment
CBSE Class 7 Social Science Assignment-Institutions of democracy. Students are advised to refer to the attached assignments and practice them regularly. This will help them to identify their weak areas and will help them to score better in examination. Parents should download and give the assignments to their children for practice.
INSTITUTIONAL REPRESENTATION OF DEMOCRACY
1.In India ,the voting age is
(a)16 years and above
(c) 18 years and above
(b) 21 years and above
(d) 30 years and above
Answers:-18years &above

2. Name the oldest political party of India.
(a) Bahujan Samaj Party
(b) Indian National Congress (Congress Party)
(c) The Communist Party
(d) Bharatiya Janata Party
Answers:- Indian National Congress

3.China is an example of
(a)single-party system
(b) two-party system
(c)multi party system
(d)none of these
Answers:-Single Party System

Q2.Fill in the blanks
1.The universal adult franchise was accepted in United States of America in the year_________.
2.People who fight elections on their own and without the support of political parties are called___________.
3.A government formed with the alliance of two or more parties is called a _____________.
4._____________ is a regional party of Andhra Pradesh.
ANSWERS:-
(a) 1965
(b) independent candidates.
(c) coalition government.
(d) Telegu Desam

Q3.State whether true or false:-
(a) Assembly elections are held on state levels. TRUE
(b) The notion of universal adult franchise is based on equality TRUE
(c) Prime minister is the head of the Election commission FALSE
(d) Political agenda is a set of policies laid out by the election commission. FALSE
(e) AIDMK of Tamil nadu is a national party. FALSE

Q4.VERY SHORT ANSWERS:-
Q1:- Name any four political parties of India.
Answer: Indian National Congress (INC), Bharatiya Janta Party (BJP), Janta Dal, Samajwadi Party.
Q2 :- What is absolute majority?
Answer:
Absolute Majority: When a candidate secures more than half of the votes polled, he or she is said to have won by an absolute majority.
Q3.What is a coalition government?
Answer: Sometimes no single party gets a majority. On such occasions, when two or more parties join together and stake their claim to form a government. This is called a coalition government.
Q4 List any two social groups who were denied voting rights initially in most democratic countries.
Answer:In most democratic countries, women and people who did not own any property or wealth were denied voting rights. The struggle for universal franchise went on for years. Even in the initial years of 20th century, only people with property and wealth were given voting rights
Q5.What is secret ballot system?
Answer : Secret Ballot method is used in the elections where the mandate of the voters polled by them are kept secret to others and the voter need not share it with others.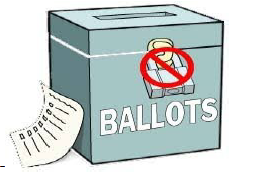 Q5.SHORT ANSWERS:-
Question1: What are elections? What are the requirements for fair elections
Answer: Elections are the process by which the citizens of a democracy select or choose their representatives. Requirements for fair elections are:
- All citizens should have only one vote and all votes should carry the same value.
- If people have to vote, they should have choices. In India, we have many political parties and candidates to choose from. This makes our democracy true and vibrant.
- Election should be held regularly
- Elections should be conducted in an atmosphere free of fear or violence.There should be no compulsions on the voters to vote for particular candidate.
Question2:-Distinguish between national and regional political parties.
Answer: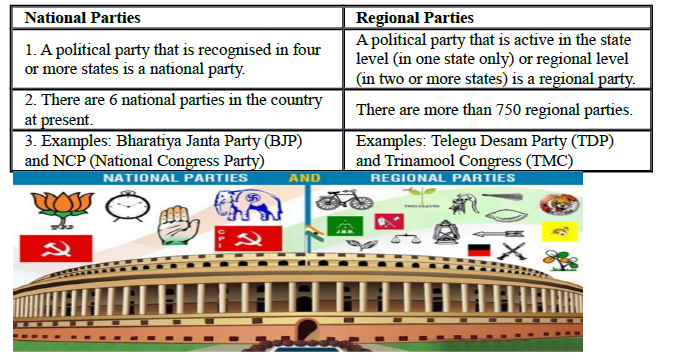 Long answers:-
Q1.Discuss how intolerance can democratic system of country.
Answer: Intolerance in democratic system:
- Intolerance has no place in democracy.
- The foundation of democracy is based on liberty and equality.
- In a democratic country like India everyone is allowed to voice his or her opinion.
- This spreads the culture of equality and of respecting the right and view of others.
- Thus intolerance and democracy are antithetical to each other.
Worksheet(Institutions of democracy)
Ina democracy ,the supreme power rests with the The process through which people can elect heir reprensentatives by voting is called In a democratic country like India ,the task of holding elections is entrusted to an independent constitutional body known as A group of people who share similar views on the political issues of the country Types of political parties with example Government formed by an alliance of two or more political parties Chief election commissioner of India is appointed by Universal adult franchise was accepted in the USA in the year
Please click the link below to download CBSE Class 7 Social Science Assignment-Institutions of democracy
Books recommended by teachers