IMPORTANT POINTS WHILE WRITING A NOTICE :
Think of an eye – catching caption-preferably a phrase and not a sentence.
The rest of the details should be in order of importance and in crisp short sentences.
The language of the notice should be impersonal. Use passive voice as possible.
Mention the name of the body / organization organizing the event.
State clearly if the event is for any cause.
The notice must be dated.
Do not use the first person e.g. 'I' or second person, e.g.' you'.
Put the notice in a box.
SOLVED EXAMPLE:
(i) You are Jim, student editor of St. James School, Lucknow. Draft a notice, for the School notice board, inviting names of those who would like to give articles, stories, etc for the School magazine.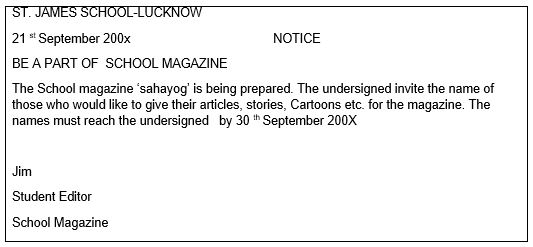 (ii) You are Aishwarya a student of class X at G.M.Amrisar. During the lunch break you lost a library book on the playground of the school . Draft a notice to be put up on the school notice board.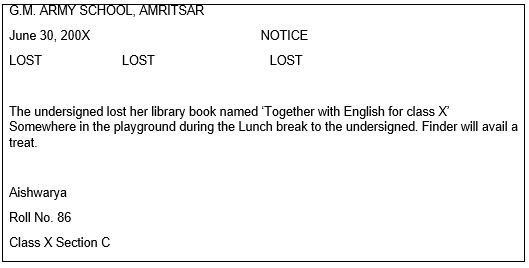 Click for more English Study Material
›