CBSE Class 9 Mathematics Sample Paper Set K. It's always recommended to practice as many sample papers as possible before the examinations. Students can download the sample papers and also question papers of previous years to practice and score better marks in examinations. Refer to other links too for more sample papers. 
SECTION - A
1. Express 0.418 as a vulager fraction.
2. Find the zero of the polynomial in each of the following cases :
p(x) = cx + d, c ≠ 0, c, d are real numbers.
3. Find a value for a so that each of the following equations may have x = 1, y = 1 as a solution :
3x + ay 6
4. In supplementary angles one is twice the other. Find the angles.
5. In the given figure, AOB is a line, determine x.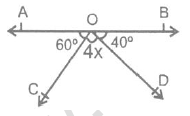 6. ABCD is a parallelogram. If the two diagonals are equal, find the measure of <ABC .
7. Find the lateral surface area of a cube of edge 20 m.
8. The mean of 10, 12, 16, 20, p and 26 is 17. Find the value of p.
9. Which of the following points lie on the x-axis >
(i) (1, 1), (ii), (1, 0), (iii), (0, 1) (iv), (0, 0)
10. Calculate the mean of all possible factor of 10.
Please click the link below to download CBSE Class 9 Mathematics Sample Paper Set K
Click for more Mathematics Study Material
›