CBSE Class 9 Mathematics Sample Paper Set J. It's always recommended to practice as many sample papers as possible before the examinations. Students can download the sample papers and also question papers of previous years to practice and score better marks in examinations. Refer to other links too for more sample papers.
SECTION -A
1. Express 0.05 as a vulager fraction.
2. Find the value of a if (x - a) is a factor of the polynomial x4 - a2x2 + 3x - 6a.
3. The cost of a book is one third the cost of a pen. Write a linear equation in two variables to represent this statement.
4. Find out how many non zero integer solutions can be possible for 3x + 2y = 18.
5. In which quadrant do the following pints lie ?
(i) (-3, 2) (ii) (2.5, 0)
6. The difference of two supplementary angles is 40°, find the angles.
7. In the given figure, OP and OQ are opposite rays. Find x.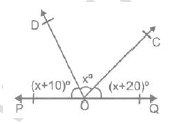 8. The class marks of distribution are : 6, 10, 14, 18, 22, 26, 30. Find the class size and the class interval.
9. Find the remainder when x51 + 51 is divided by x+ 1.
Please click the link below to download CBSE Class 9 Mathematics Sample Paper Set J
Click for more Mathematics Study Material
›