Download printable Science Class 9 Worksheets in pdf format, CBSE Class 9 Science Lab Worksheet Preparation of Mixture and Compound has been prepared as per the latest syllabus and exam pattern issued by CBSE, NCERT and KVS. Also download free pdf Science Class 9 Assignments and practice them daily to get better marks in tests and exams for Grade 9. Free chapter wise worksheets with answers have been designed by Standard 9 teachers as per latest examination pattern
Worksheet for Class 9 Science Preparation of Mixture and Compound
Class 9 Science students should refer to the following printable worksheet in Pdf for Preparation of Mixture and Compound in Grade 9. This test paper with questions and solutions for Standard 9 Science will be very useful for tests and exams and help you to score better marks
Preparation of Mixture and Compound Class 9 Science Worksheet Pdf
PREPARATION OF MIXTURE & COMPOUND
Objective: To prepare (a) mixture and (b) a compound using iron filings and sulphur powder and distinguish between these on the basis of:
(a) Appearance (homogeneity and heterogeneity); (b) Behavior towards magnet
(c) Behavior towards Carbon disulphide (CS2); (d) Effect of heat.
Requirements: China dish, test tubes, test tube holder, mortar and pestle, watch glasses, magnet, Bunsen burner, iron filings, tripod stand, wire gauze, sulphur powder, CS2 etc.
Procedure:
1. Take 7 g of Iron filings and 4 g of sulphur powder and mix them well using mortar and pestle. Transfer half of this into watch glass no-1
2. Take half of this mixture in a china dish heat strongly on a Bunsen burner (Use tripod stand and wire gauze) till the mixture starts to show a red glow.
3. Cool the mixture, and grind into fine powder using a mortar and pestle.
4. Transfer the powder to watch glass no-2.
5. Perform the following experiments with the samples you have in both the watch glasses.
Properties of mixture of iron &sulphur

Properties of compound of iron &sulphur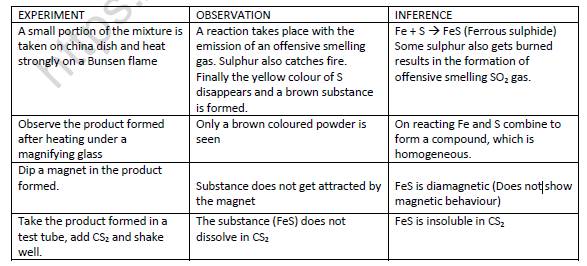 Precautions:
1. Heating of the Fe & S mixture should be done with extreme care.
2. While performing the experiments, use only very little quantity of the samples.
3. Use china dish for heating the mixture.
Questions:
1. Name the compounds formed when the following chemicals react:
a) Hydrogen and Oxygen b.)Mg and S
b) S and Fe d)Fe and Cl2.
2 Classify the following into homogeneous and heterogeneous mixtures.
a) Sand and saw dust b) Sugar dissolved in water.
c) Milk d) Powders of Fe and S
3 Suggest suitable physical methods to separate the following mixtures:
a. Fe and S Magnet
b. NaCl and water Evaporation/Boiling
c. Sand and water Filtration
4 Classify the following into compounds, elements and mixture:
a. Air b. CO2 gas, c. Fe metal d. S powder f. Sugar solution e. Ethane
f. Fe + S g. NaCl h. SO2 gas. i. H2S gas j. Ammonia gas k. Milk
Multiple choice type questions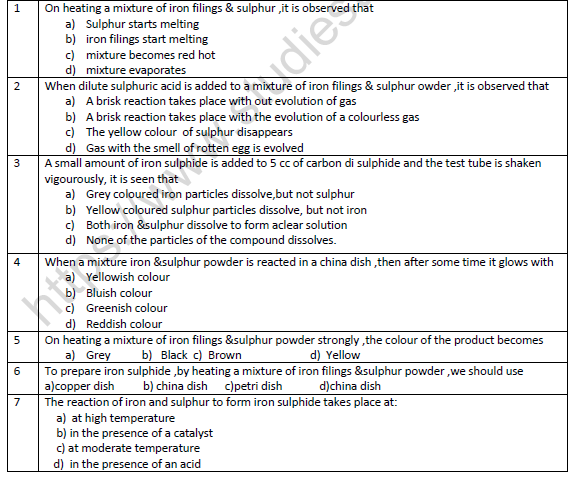 Please click on below link to download CBSE Class 9 Science Lab Worksheet Preparation of Mixture and Compound
Books recommended by teachers