CBSE Class 8 Science Cell Structure And Functions. Learning the important concepts is very important for every student to get better marks in examinations. The concepts should be clear which will help in faster learning. The attached concepts made as per NCERT and CBSE pattern will help the student to understand the chapter and score better marks in the examinations.
 CLASS-8 CORE ASSIGNMENT 
CELL: STRUCTURE AND FUNCTIONS
Q1. Write a short account on discovery of cell. 
A. Robert Hooke in 1665 observed slices of cork under a simple microscope. He noticed partitioned boxes or  ompartments in the cork slice. These boxes appeared like a honeycomb.  Hooke coined the term 'cell' for each box.
Q2. Why is cell called the basic structural unit of life? 
A.All living beings are made up of cells. Cell is the smallest living entity performing all life processes. 
Q3. What is a cell? 
A. Cell is the basic structural and functional unit of life. 
Q4. What are cell organelles? 
A. They are the small compartments in the cell specialized in their activities. E.g.,  chloroplast, mitochondria,  acuole.
Q5. Name the smallest and the largest living cell. 
A. Smallest cell- bacteria largest cell- ostrich's egg. 
Q6. Cells vary in shape. Justify this statement by drawing three different cells of different shapes.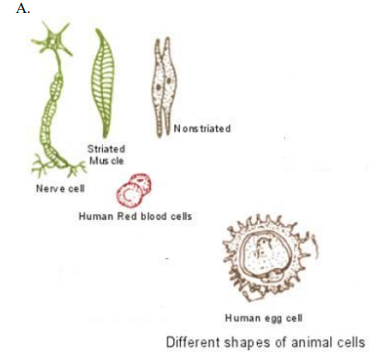 Please click the link below to download pdf file for CBSE Class 8 Science Cell Structure And Functions.
Click for more Science Study Material
›