CBSE Class XI Geography Natural Hazards and Disasters Concepts. Learning the important concepts is very important for every student to get better marks in examinations. The concepts should be clear which will help in faster learning. The attached concepts made as per NCERT and CBSE pattern will help the student to understand the chapter and score better marks in the examinations.
 NATURAL HAZARDS AND DISASTERS:
CAUSES, CONSEQUENCES AND MANAGEMENT
This unit deals with• Floods and droughts• Earthquakes and tsunami• Cyclones • Landslides
NATURAL HAZARDS AND DISASTERS
What is a Disaster?
―Disaster is an undesirable occurrence resulting from forces that are largely outside human control, strikes quickly with little or no warning, which causes or threatens serious disruption of life and property including death and injury to a large number of people, and requires therefore, mobilisation of efforts in excess of that which are normally provided by statutory emergency services‖.
disasters as a consequence of natural forces; and human beings were treated as innocent and helpless victims in front of the mighty forces of nature.
TYPES OF DISASTERS
NATURAL:
1. EARTH QUAKES.         2. VOLCANIC ERUPTIONS            3. LANDSLIDES           4. FOREST FIRES
5. FLOODS                                  6.TSUNAMIES                        7. DISEASES
MAN MADE DISASTERS
1. NUCLEAR EXPLOSIONS
2. EARTH QUAKES CAUSED BY DAM CONSTRUCTION
3.HIV AIDS 
4 MINING
5. ENVIRONMENTAL POLLUTION
6. LEAKAGE OF NUCLEAR MATERIAL
Establishment of National Institute of Disaster Management, India, Earth Summit at Rio de Janeiro, Brazil, 1993 and the World Conference on Disaster Management in May 1994 at Yokohama, Japan, etc. are some of the concrete steps towards this direction initiated at different levels.
Natural Hazards are elements of circumstances in the Natural environment that have the potential to cause harm to people or property or both.
Natural disasters are relatively sudden and cause large scale, widespread death, loss of property and disturbance to social systems and life over which people have a little or no control.
Thus, any event can be classed as disaster when the magnitude of destruction and damage caused by it is very high. Generally, disasters are generalized experiences of people the world over, and no two disasters are similar and comparable to each other. Every disaster is unique in terms of the local socio-environmental factors that control it, the social response it generates, and the way each social group negotiates with it.
However, the opinion mentioned above is indicative of three important things.
1. Firstly, the magnitude, intensity, frequency and damages caused by natural disasters have increased over the years.
2.Secondly, there is a growing concern among people the world over to deal with the menace created by these so that the loss of human life and property can be minimized.
3.finally, significant changes have taken place in the pattern of natural disasters over the years.
There has also been a change in the perception of natural disasters and hazards. Areas prone to natural hazards, were more vulnerable to disasters. Hence, this issue was raised at the U.N. General Assembly in 1989 and it was finally formalized at
the World Conference on Disaster Management in May 1994 at Yokohama, Japan. This was subsequently called the Yokohama Strategy and Plan of Action for a Safer World.
Table 7.1 : Some Natural Disasters Since 1948
Year Location Type
1948 The Soviet Union (now Russia) Earthquakes
1949 China Floods
1954 China Floods
1965 East Pakistan (now Bangladesh) Tropical Cyclones
1968 Iran Earthquakes
1970 Peru Earthquakes
1970 East Pakistan (now Bangladesh) Tropical Cyclones
1971 India Tropical Cyclones
1976 China Earthquakes
1990 Iran Earthquakes
2004 Indonesia, Sri Lanka, India, etc. Tsunamis
2005 Pakistan, India Earthquakes
2011 Japan Tsunami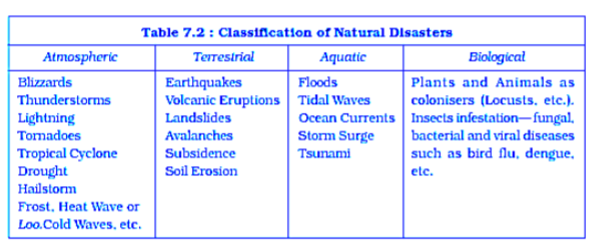 Source : United Nations Environmental Programme (UNEP), 1991
*News Report from National Institute for Disaster Management, Government of India, New Delhi
Table 7.2 : Classification of Natural Disasters
Yokohama Strategy and International Decade for Natural Disaster Reduction (IDNDR) Yokohama Strategy and Plan of Action for a Safer World
All the member states of the United Nations and other states met at the World Conference on Natural Disaster Reduction in the city of Yokohama from May 23rd- 27th 1994. It acknowledged that the impact of natural disasters in terms of human and economic losses has risen in recent years, and society, in general, has become vulnerable to natural disasters. It also accepted that these disasters affected the poor and disadvantageous groups the worst, particularly in the developing countries, which are ill-equipped to cope with them. Hence, the conference adopted the Yokohama strategy as a guide to rest of the decade and beyond, to mitigate the losses due to these disasters.
The resolution of the World Conference on Natural Disasters Reduction is as mentioned below:
(i) It will note that each country has the sovereign responsibility to protect its citizens from natural disasters;
(ii) It will give priority attention to the developing countries, particularly the least developed, landlocked countries and small-island developing states;
(iii) It will develop and strengthen national capacities and capabilities and, where appropriate, national legislation for natural and other disaster prevention, mitigation and preparedness, including the mobilisation of non-governmental organisations and participation of local communities;
(iv) It will promote and strengthen sub-regional, regional and international cooperation in activities to prevent, reduce and mitigate natural and other disasters, with particular emphasis on:
(a) human and institutional capacity-building and strengthening;
(b) technology sharing: the collection, the dissemination and utilisation of information; and
(c) mobilisation of resources. It also declared the decade 1990-2000 as the International Decade for Natural Disaster Reduction (IDNDR).
NATURAL DISASTERS AND HAZARDS IN INDIA
REASONS FOR MORE DISASTERS IN INDIA
1.India is vast and diverse in terms of its physical and socio-cultural attributes.
2.It is largely due to its vast geographical area,
3.Environmental diversities and cultural pluralities that scholars often described it using two meaningful adjectives like the ‗Indian-subcontinent' and the ‗land of unity in diversity'.
4.Its vastness in terms of natural attributes combined with its prolonged colonial past, continuing various forms of social discriminations and also equally large population have enhanced its vulnerability to natural disasters.
Earthquakes
Earthquakes are by far the most unpredictable and highly destructive of all the natural disasters.
CAUSES OF EARTHQUAKES
1. NATURAL
A. tectonic B. volcanic C land slides
2.MAN MADE
1. mining 2. Nuclear explosion 3. Dam induced
Please click the link below to download pdf file for CBSE Class XI Geography Natural Hazards and Disasters Concepts.
Click for more Geography Study Material
›