Read and download free pdf of Class 12 Arrays Stacks Queues And Linked List Revision Notes. Students and teachers of Class 12 Computer Science can get free advanced study material, revision notes, sure shot questions and answers for Class 12 Computer Science prepared as per the latest syllabus and examination guidelines in your school. Standard 12 students should download this study material which will give them more knowledge for all chapters in Computer Science and all important topics which are scoring and can get you more marks. Students should also download free pdf of Chapter wise Notes for Class 12 Computer Science prepared by school teachers as per the latest NCERT, CBSE, KVS books and syllabus issued this year and also download free worksheets and question papers available here to get higher scores in school exams and tests, also click here for more Study Material for Class 12 Computer Science
In Computer Science, a data structure is a particular way of storing and organizing data in a computer so that it can be used efficiently. Different kinds of data structures are suited to different kinds of applications, and some are highly specialized to specific tasks.
Simple Data Structure: These data structures are normally built from primitive data types like integers, floats, characters. For example arrays and structure.
Compound Data Structure: simple data structures can be combined in various ways to form more complex structure called compound structures. Linked Lists, Stack, Queues and Trees are examples of compound data structure.
Searching methods in array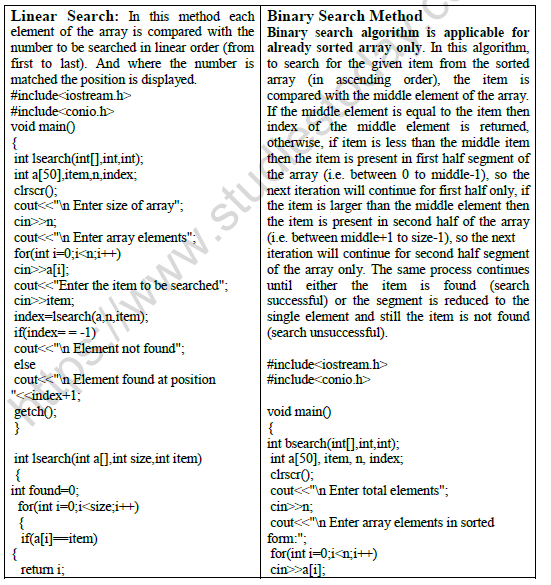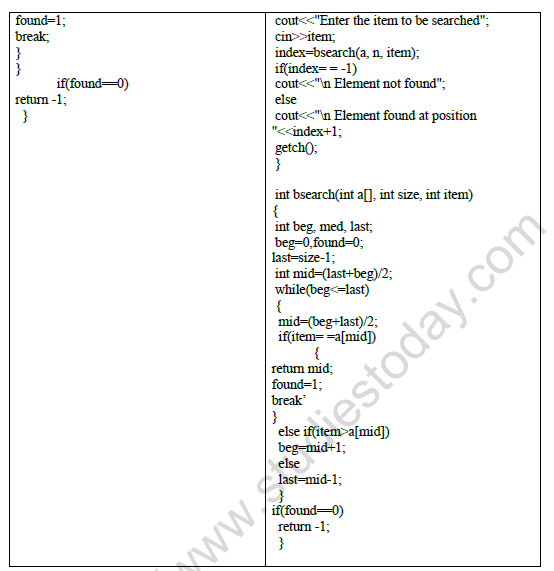 Click for more Computer Science Study Material
›