Class 9 NCERT Solutions Motion with answers available in Pdf for free download. The NCERT Solutions for Class 9 Science with answers have been prepared as per the latest syllabus, NCERT books and examination pattern suggested in Standard 9 by CBSE, NCERT and KVS. Solutions to questions given in NCERT book for Class 9 Science are an important part of exams for Grade 9 Science and if practiced properly can help you to get higher marks. Refer to more Chapter-wise Solutions for NCERT Class 9 Science and also download more latest study material for all subjects
Motion Class 9 NCERT Solutions
Class 9 Science students should refer to the following NCERT questions with answers for Motion in standard 9. These NCERT Solutions with answers for Grade 9 Science will come in exams and help you to score good marks
Motion NCERT Solutions Class 9
Class 9 NCERT Solutions Motion. The NCERT solutions for Class 9 Science have been made by Science teacher of one of the best CBSE school in India. These NCERT solutions have been made to give detailed answers and expanations of the concepts which can be easily understood by the students. Refer to other links also to download Science NCERT solutions, worksheets, sample papers and test papers. NCERT Science books have been recommended for students of class 9. The books have been very well defined and easy to understand. Download NCERT books and solutions in pdf free from our website.
1. An object has moved through a distance. Can it have zero displacement? If yes, support your answer with an example.
Answer Yes, an object can have zero displacement even when it has moved through a distance. This happens when final position of the object coincides with its initial position. For example, if a person  moves around park and stands on place from where he started then here displacement will be zero.
2. A farmer moves along the boundary of a square field of side 10 m in 40 s. What will be the  magnitude of displacement of the farmer at the end of 2 minutes 20 seconds from his initial position?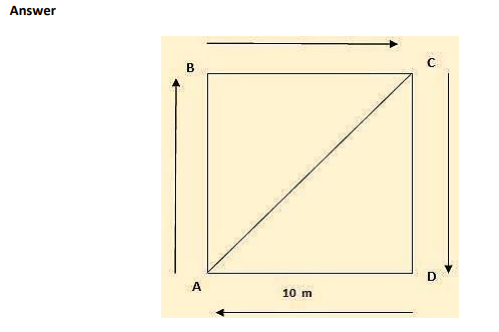 Given, Side of the square field= 10m
Therefore, perimeter = 10 m × 4 = 40 m
Farmer moves along the boundary in 40s.
Displacement after 2 m 20 s = 2 × 60 s + 20 s = 140 s =? Since in 40 s farmer moves 40 m
Therefore, in 1s distance covered by farmer = 40 / 40 m = 1m
Therefore, in 140s distance covered by farmer = 1 × 140 m = 140 m. Now, number of rotation to
cover 140 along the boundary= Total Distance / Perimeter
Please click the link below to download Class 9 NCERT Solutions Motion
Click for more Science Study Material
›