CBSE Class 9 Quantative Stand Alone MCQs. Chapter wise Multiple Choice Questions (MCQds) are being given by teachers to students to make them understand the chapter concepts. Its extremely critical for all CBSE students to practice all MCQs which will help them in gaining better marks in examinations. All assignments available for free download on the website are developed by the best teachers having many years of teaching experience in CBSE schools all over the country. Students, teachers and parents are advised to download the CBSE study material.
Stand Alone MCQ
1. What is the value of : [(64) ½ ]1/3χ [ 1 )1/3]2
(i) 2 (ii) 9 (iii) 9/2 (iv) 2/9
2. What are the zeroes of the polynomial x2 – 16?
(i) (4, –4) (ii) (–4, –4) (iii) (4, 4) (iv) None of these
3. What is the remainder when polynomial x3 – ax2 + 6x – a is divided by (x – a)?
(i) a (ii) 3a (iii) a/5 (iv) 5a
4. Which one is correct order of Cartesian plane for the points (4, –4), (–3, 2), (–5, –7) and (6, 3)?
(i) I, II, III, IV (ii) IV, II, III, I (iii) III, II, I, IV (iv) II, III, IV, I
5. In the given figure if <BAC = 72o and AB = AC, <ACD = ?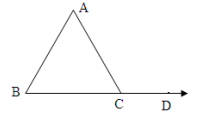 (i) 54o (ii) 126o (iii)136o (iv) 108o
6. Sum of exterior angles of a triangle is :
(i) 270o (ii) 306o (iii)630o (iv) 360o
7. If DC AA||AB, the values of "x" and "y" are :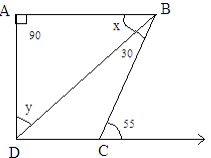 (i) (45o, 25o) (ii) (25o, 65o) (iii) (30o, 45o) (iv) (45o, 30o)
8. Which type of quadrilateral ABCD is, if <AOB = 90o?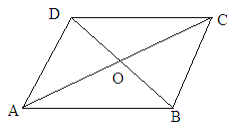 (i) Rectangle (ii) Parallelogram (iii) Rhombus (iv) All of them
Please click the below link to access CBSE Class 9 Quantative Stand Alone MCQs.
Click for more Class IX Study Material
›