CBSE Class 9 PSA Quantitative Passage Based MCQs (1).Chapter wise Multiple Choice Questions (MCQds) are being given by teachers to students to make them understand the chapter concepts. Its extremely critical for all CBSE students to practice all MCQs which will help them in gaining better marks in examinations. All assignments available for free download on the website are developed by the best teachers having many years of teaching experience in CBSE schools all over the country. Students, teachers and parents are advised to download the CBSE study material.
Passage No. 1
A survey was conducted among 1200 people of Delhi speaking different languages, which is shown in the given figure. Calculate the following as per given figure.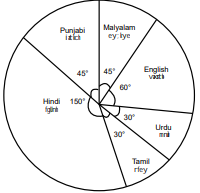 1. Number of Hindi speaking people are :
(i) 150 (ii) 45 (iii) 500 (iv) 60
2. How many people speak Punjabi?
(i) 150 (ii) 45 (iii) 90 (iv) 300
3. How many people speak Hindi and Tamil both together?
(i) 180 (ii) 600 (iii) 280 (iv) 380
4. How many more people speak English than Malyalam?
(i) 25 (ii) 50 (ii) 76 (iv) 67
Passage No. 2
The expenditure on education in 1951-52 increases from 0.64% to 3.98% in 2002-03 (Budgetary estimate). The literacy rate have increased from 18% in 1951 to 65% in 2001. Literacy is not only a right, it is also needed if the citizen are to perform their duties and enjoy their right properly. However, a vast difference is notice across different sections of population. Literacy among males is nearly 50% higher than females and it is about 50% higher in urban areas as compared to the rural areas. Literacy rates vary from 96% in some district of Kerala to below 30% in some parts of Madhya Pradesh.
1. How much is the education budget after increasing in 2003?
(i) 18% (ii) 64%
(iii) 96% (iv) 3.98%
2. Find the increase in the education budget from 1951 to 2003.
(i) 47% (ii) 96% (iii) 3.34% (iv) 50%
3. How much has the literacy rate increased from 1951 to 2001?
(i) 75% (ii) 65% (iii) 30% (iv) 96%
4. In how many districts of Kerala the percentage of literacy rate is more as compare to Madhya Pradesh?
(i) 30 (ii) 66 (iii) 65 (iv) 90
Please click the below link to access CBSE Class 9 PSA Quantitative Passage Based MCQs (1).
Click for more Class IX Study Material
›