CBSE Class 9 PSA Quantitative Passage Based MCQs (2). Chapter wise Multiple Choice Questions (MCQs) are being given by teachers to students to make them understand the chapter concepts. Its extremely critical for all CBSE students to practice all MCQs which will help them in gaining better marks in examinations. All assignments available for free download on the website are developed by the best teachers having many years of teaching experience in CBSE schools all over the country. Students, teachers and parents are advised to download the CBSE study material.
QUANTITATIVE PASSAGE BASED MCQ
Q1. Compare quantity A and quantity B, using additional information centered above the two quantities if such information is given. Select one of the following four answer choices and fill in the corresponding circle to the right of the questions.
A. Quantity A is greater
B. Quantity B is greater
C. The two quantities are equal
D. The relationship cannot be determined from the information given.
A symbol that appears more than once in a question has the same meaning throughout the questions.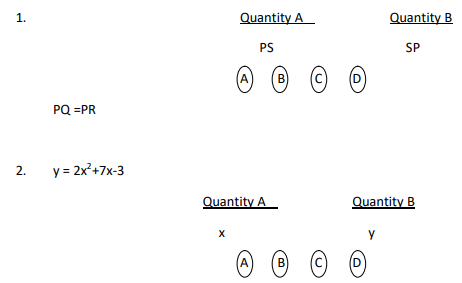 Click for more Class IX Study Material
›