CBSE Class 9 PSA MCQs and Short Questions Database. Based on CBSE and NCERT guidelines. The students should practice these Sample Papers to gain perfection which will help him to get more marks in CBSE examination. Based on the same pattern as released by CBSE every year. CBSE releases sample papers every year. These papers are released prior to the CBSE examinations so that students can do practice.
QUANTITATIVE
Stand Alone MCQ
1. What is the value of :
[(64) ½ ]1/3Χ [1/27)1/3]2  
(i) 2 (ii) 9 (iii) 9 /2 (iv) 2 /9
2. What are the zeroes of the polynomial x2 – 16?
(i) (4, –4) (ii) (–4, –4) (iii) (4, 4) (iv) None of these
3. What is the remainder when polynomial x3 – ax2 + 6x – a is divided by (x – a)?
(i) a (ii) 3a (iii) a /5 (iv) 5a
4. Which one is correct order of Cartesian plane for the points (4, –4), (–3, 2), (–5, –7) and (6, 3)?
(i) I, II, III, IV
(ii) IV, II, III, I
(iii) III, II, I, IV
(iv) ( II, III, IV, I)
5. In the given figure if <BAC = 72o and AB = AC, <ACD = ?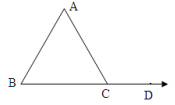 (i) 54o (ii) 126o (iii)136o (iv)108o
6. Sum of exterior angles of a triangle is :
(i) 270o (ii) 306o (iii)630o (iv)360o
7. If DC AA AB, the values of 'x' and 'y' are :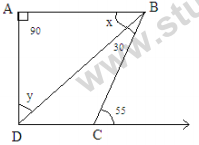 (i) (45o, 25o)
(ii) (25o, 65o)
(iii) (30o, 45o) 
(iv) (45o, 30o)
Please refer to attached file for CBSE Class 9 PSA Quantitative Stand Alone MCQs (2).
Click for more Class IX Study Material
›