Read and download free pdf of CBSE Class 9 English Interpretation Assignment. Get printable school Assignments for Class 9 English. Standard 9 students should practise questions and answers given here for English in Grade 9 which will help them to strengthen their understanding of all important topics. Students should also download free pdf of Printable Worksheets for Class 9 English prepared as per the latest books and syllabus issued by NCERT, CBSE, KVS and do problems daily to score better marks in tests and examinations
DATA- INTERPRETATION
Our age is the age of computers. Data is pouring fast in print media and other usual media in very attractive form. Proper interpretation of data is essential only then we can analyze and appreciate the importance and relevance of the issue.
The students will be asked to transcode the information from a diagram, map, table, chart or illustration into a short paragraph of about 100 words. The students will be provided some visual stimulus as data. Students are expected to interpret the data.
SAMPLE
The given pie chart throws light on India's poor performance in Olympics. Write a paragraph in not more than 100 words analyzing the reason for the poor performance. Give suggestions on how India can perform better.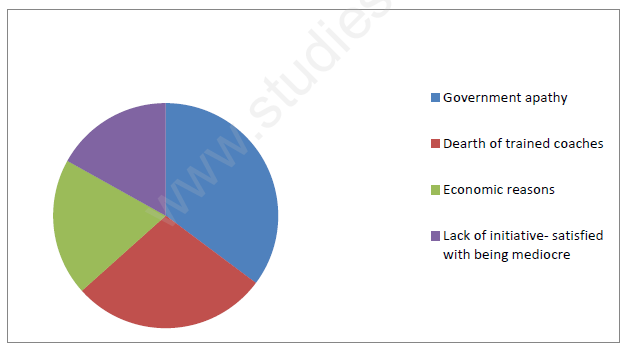 India's deplorable performance in the Olympics has once again underlined the need to improve in sports. The reason behind India's poor showing at the Olympics are not far to seek. In India, sports is viewed as a hobby rather than a career. Added to this are reasons like poor infrastructure, lack of training facilities, and lack of a "killer instinct". Children are discouraged to take up sports as there are a few career options in professional sports. It is the duty of the Indian Olympic Association to help Government apathy Dearth of trained coaches Economic reasons Lack of initiative- satisfied with being mediocre participation in Asian Championship, Commonwealth and Olympic games; and to provide adequate training facilities and exposure to sportpersons. Sports person should also be encouraged by awarding them scholarships and sponsorships.
PRACTICE QUESTIONS
1. Saryung Mathur is a Secretary in the Ministry of Environment. He saw the following data on atmospheric pollution. Help him write a report in about 100 words on emission of gases and waste in cities.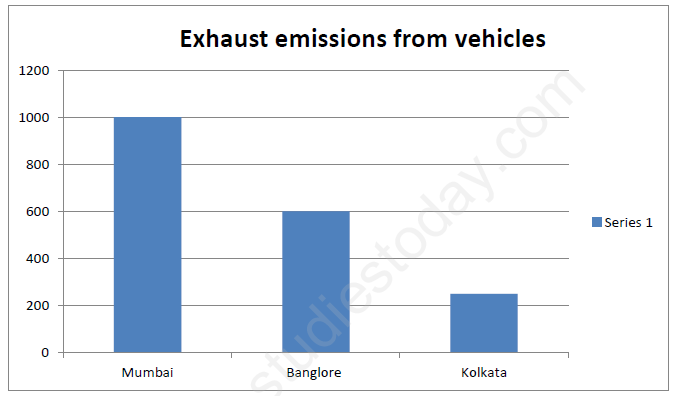 2. Given below is a table showing various reasons for increasing crime in metropolitan cities among the upper middle-class. Study the table carefully and write a paragraph on the topic "Crime among the upper middle-class". No. Nature of problem % of people
Click on link below to download CBSE Class 9 English Interpretation Assignment
Click for more English Study Material
›