CBSE Class 12 Physics Question Paper Solved 2019 Set G. Students can download the last year board exams question papers using the link below. Free download of examination question papers with solutions. Last 10 year question papers should be practised to get better marks in examinations.
SECTION A
1.Two metallic spheres A and B kept on insulating stands are in contact with each other. A positively charged rod P is brought near the sphere A as shown in the figure. The two spheres are separated from each other, and the rod P is removed. What will be the nature of charges on spheres A and B ?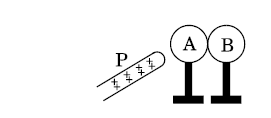 OR
A metal sphere is kept on an insulating stand. A negatively charged rod is brought near it, then the sphere is earthed as shown. On removing the earthing, and taking the negatively charged rod away, what will be the nature of charge on the sphere ? Give reason for your answer.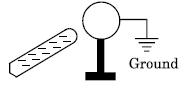 2. A carbon resistor is shown in the figure. Using colour code, write the value of the resistance.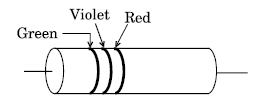 3. State the condition under which a large magnification can be achieved in an astronomical telescope.
OR
How does the angle of minimum deviation of a glass prism vary if the incident violet light is replaced by red light ?
Please click the link below to download pdf file of CBSE Class 12 Physics Question Paper Solved 2019 Set G.
Click for more Physics Study Material
›