Read and download CBSE Class 11 Multimedia And Web Technology Question Paper Set B Solved designed as per the latest question paper pattern and Class 11 examination guidelines issued by CBSE, NCERT and KVS. The past year Question Papers for Class 11 Multimedia And Web Technology have been provided with solutions which will help students to assess their performance and find out topics in Multimedia And Web Technology grade 11 which they need to improve to get better marks in Standard 11 exams. After solving these last year papers also refer to solved Sample Papers for Class 11 Multimedia And Web Technology available on our website to build strong understanding of the subject
Multimedia And Web Technology Question Paper Class 11
Students can refer to the below Class 11 Multimedia And Web Technology Question Paper designed to help students understand the pattern of questions that will be asked in Grade 11 exams. Please download CBSE Class 11 Multimedia And Web Technology Question Paper Set B Solved
Multimedia And Web Technology Class 11 Question Paper
SECTION A (COMPUTER SYSTEM) 
1. What is Memory? Define any two terms in which memory is measured?

2.__________________to keep deleted files or folders till they are not permanently deleted from the system.

3. What is the difference between dot matrix printer and a laser printer

4. ______________________is also called as non-volatile memory.

5. What is Language Processor? Write any two examples.

6. _______________is a special flat surface with a mechanism for indicating positions there on, normally used as locator.

7. What is control panel? Write any two basic accessories of windows?

8. A _________________________ is a digital optical disk data storage format that can hold about 25 GB of data.

9. Give four examples of operation carried out by utility programs? 
10.
______________________ & ___________________are two examples of specific purpose application software.


II SECTION B (WEB DEVELOPMENT) 25 Marks
11. What is the difference between <p> and <br> tag?

12.____________________tag is used to format the text as same as <b>
13. Fill in the blanks in the HTML code to create a frame d web page in the following format:
<HTML>
<FRAMESET _____= "25%,_____">
<FRAME_____= "FileA.HTML">
<FRAMESET _____ = "45%,*">
<FRAME_____= "FileB.html">
<FRAME_____= "FileC.HTML">
</FRAMESET>
</FRAMESET>
</HTML>


14.
a) Differentiate between HIDDEN and PASSWORD interface elements of a form.
b) Explain with the help of an example how " interfile" linking is done.
c) Name the tag and attribute used to give a color to the background of the entire table.

15. Write the HTML code to generate a webpage in the format given below:
Consider the following while writing the HTML code
1.Title of the page should be "Save Girl Child".
2.The text of the entire document should be in "Bookman Old Style" and red in color.
3.Heading of page should be "violet" in color.
4.Picture used in the page is the file "savegirl.jpg"
5.Table should have a borde r of width 1, border of table should be "green".
6.Background of first row is "yellow" and of second row is "cyan"
7.Pages linked to :
a. At the National level as "national.html"
b. At the State level as "state.html"
c. At the District level as "district.html
8.Bottom message is of size 2 is linked to e mail-id savegirl@abc.com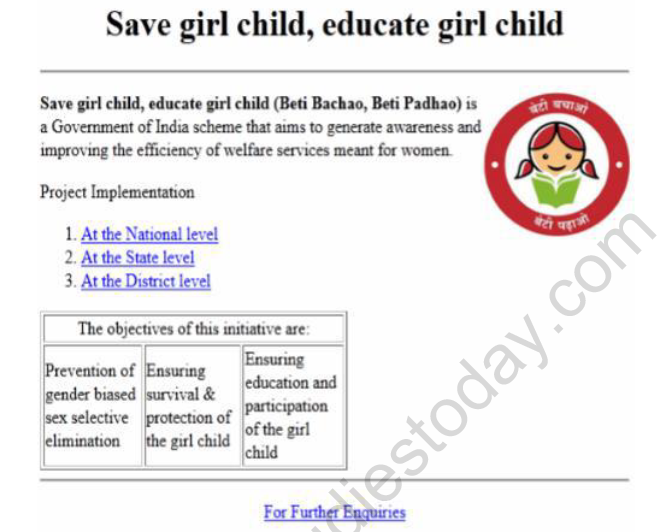 16. Correct the error in the following HTML code.
<HTML>
<TITLE>First page</TITLE>
<BODY>
<H7>WEB PAGE</H7>
<P>This is my first web page.</P>
<HR size=50% color=red>
<up type="1" starting=3 >
<li>JavaScript
<li>VBScript
<up>
</HTML>
</BODY>
Please click on below link to download CBSE Class 11 Multimedia And Web Technology Question Paper Set B Solved
Click for more Other Subjects Study Material
›