CBSE Class 12 Mathematics Question paper 2007 (2). Students can download the last year question papers using the link below. Free download of examination question papers with solutions.Last 10 year question papers should be practised to get better marks in examinations.
1. An urn contains 7 red and 4 blue balls. Two balls are drawn at random with replacement.Find the probability of getting (a) 2 red balls (b) 2 blue balls(c) one red and one blue ball.
2. A card is drawn at random from a well-shuffled pack of 52 cards. Find the probability that it is neither a ace nor a king.
3. Write the Boolean expression representing the following circuit :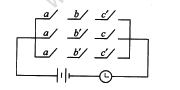 4. Using the properties of determinants, prove that following :

5. A particle starting with initial velocity of 30 m/sec moves with a uniformacceleration of 9 m/sec2. Find :
(a) the velocity of the particle after 6 seconds.
(b) how far it will go in 9 seconds. 
(c) its velocity when is has traversed 150 m.
Please click the link below to download pdf file of CBSE Class 12 Mathematics Question paper 2007 (2).
Click for more Mathematics Study Material
›