CBSE English HOTs questions database with answers (Please refer to other links for answers to HOTs questions) for Class 10 of CBSE exams for CBSE Students. Based on CBSE and CCE guidelines. The students should practice these Question Papers to gain perfection which will help him to get more marks in CBSE examination. Please refer to more CBSE Class 10 question papers in other links. Please refer to more CBSE Class 10 sample papers for SA 1/ SA 2, question papers, HOTs etc in other links.
                                                                     Kendriya Vidyalaya Sangathan
Zonal Institute of Education and Training-Mysore
CLASS X –COMMUNICATIVE ENGLISH
HOTS
Main Course Book
SECTION-B WRITING
Unit-1-Health and Medicine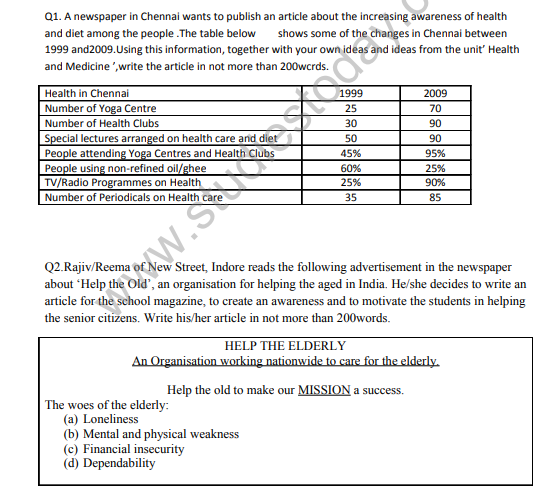 Q3.You recently came across an article on the RTI-Right to Information act. You were impressed by its tremendous power it bestows in the hands of a citizen. You decide to give a speech during morning assembly program of your school highlighting this act.
Q4.In the modern lifestyle world, the youngsters have become lazy due to lack of physical exercises. The youth of the day are disease prone and stressed out. As a concerned citizen deliver a speech in the 'Parent-Teacher Meeting' voicing your concern. Suggest remedial measures.
Q5.You are Mr.Preetam, the manager of 'INCOMP' often you are angry, stressed and impatient at your work place. You come across a research study which shows that excessive use of mobile phones can cause stress. You conduct a meeting to stress on mobile etiquette and the negative impact of its over use. Write the speech.
Please refer to link below to download pdf file of CBSE CBSE Class 10 English HOTs

For more study material for English please click here -
English