Download CBSE Class 9 Social Science Poverty as Challenge Notes in PDF format. All Revision notes for Class 9 Social Science have been designed as per the latest syllabus and updated chapters given in your textbook for Social Science in Standard 9. Our teachers have designed these concept notes for the benefit of Grade 9 students. You should use these chapter wise notes for revision on daily basis. These study notes can also be used for learning each chapter and its important and difficult topics or revision just before your exams to help you get better scores in upcoming examinations, You can also use Printable notes for Class 9 Social Science for faster revision of difficult topics and get higher rank. After reading these notes also refer to MCQ questions for Class 9 Social Science given our website
Poverty as Challenge Class 9 Social Science Revision Notes
Class 9 Social Science students should refer to the following concepts and notes for Poverty as Challenge in standard 9. These exam notes for Grade 9 Social Science will be very useful for upcoming class tests and examinations and help you to score good marks
Poverty as Challenge Notes Class 9 Social Science
POVERTY
It is a state of helplessness. It is a situation in which one is unable to get even the minimum basic necessities of life such as food, clothing, and shelter for his/her sustenance.
I. Poverty social indicators of poverty
i. Illiteracy level
ii. Lack of general resistance
iii. Due to malnutrition
iv. Lack of access to healthcare
v. Lack of job opportunities
vi. Lack of access to safe drinking water, sanitation etc.
II. Methods to measure poverty:
a) Income
b) Consumption level
III. Poverty Line: It is an imaginary line that expresses the income that is required to purchase the minimum subsistence needs of a person. It is a line that demarcates the population into poor and non-poor.
IV. ESTIMATION OF POVERTY LINE IN INDIA
1. A minimum level of food requirement, clothing, footwear, fuel and light, educational and medical requirement etc. are determined for subsistence.
2. These physical quantities are multiplied by their prices in rupees.
3. The present formula for food requirement while estimating the poverty line is based on the desired calorie requirement.
4. Food items such as cereals, pulses, vegetable, milk, oil, sugar etc. together provide these needed calories.
5. The calorie needs vary depending on age, sex and the type of work that a person does.
6. The accepted average calorie requirement in India is 2400 calories per person per day in rural areas and 2100 calories per person per day in urban areas.
7. People living in rural areas engage themselves in more physical work, calorie requirements in rural areas are considered to be higher than urban areas.
V. Poverty Scenario from 1973:
1. There is substantial decline in poverty ratios inIndia.
2. There has been a decline from 55% in 1973 to about 45 per cent in 1993-94.
3. It further declined to 37.2 per cent in 2004-05.
4. The proportion of people below poverty line further came down to about 21.9 per cent in 2011-12.
5. If the trend continues, people below poverty line may come down to less than 20 per cent in the next few years.
6. Although the percentage of people living under poverty declined in the earlier two decades
7. (1973–1993), the number of poor declined from 407.1 million in 2004-05 to 269.3 million in 2011-12 with an average annual decline of 2.2 percentage points during
8. 2004-05 to 2011-12.
VI. Inter- state disparity:
1. State level poverty has witnessed a secular decline from the levels of early seventies;
2. The success rate of reducing poverty varies from state to state.
3. In 20 states and union territories, the poverty ratio is less than the national average.
4. High Poverty in Orissa, Bihar, Assam, Tripura and Uttar Pradesh.
5. Orissa and Bihar continue to be the two poorest states with poverty ratios of 47 and 43 per cent respectively.
6. significant decline in poverty in Kerala, Jammu and Kashmir, Andhra Pradesh, Tamil Nadu, Gujarat and West Bengal.
7. Punjab and Haryana have traditionally succeeded in reducing poverty with the help of high agricultural growth rates.
8. Kerala has focused more on human resource development.
9. In West Bengal, land reform measures have helped in reducing poverty.
10. Andhra Pradesh and Tamil Nadu public distribution of food grains could have been responsible for the improvement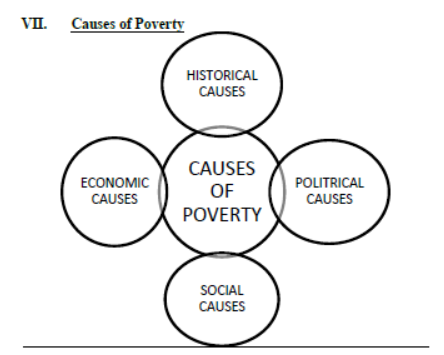 There were a number of causes for the widespread poverty in India.
Historical
a) 200 years of colonial exploitation
b) British government did not encourage industry in India.
c) Handicraft and small cottage industries were crushed for e.g. textile industry.
d) Backwardness in agriculture.
Economic
a) Lack of technology and capital, there is slow rate of economic growth.
b) The industries, both public and private, did provide some jobs, but these were not enough to absorb all the job seekers.
c) Unequal distribution of wealth.
d) Indebtedness amongst farmers (due low incomes and low savings )
Political
a. improper implementation of government policies on redistribution of assets in rural areas
b. limited spread of land reform measures and green revolution
Social causes
a. wasteful expenditure on social obligations and ceremonies
b. lack of basic healthcare and illiteracy
c. overpopulation
VIII. Anti-Poverty Measures
The current anti-poverty strategy of the government is based broadly on:
• Promotion of economic growth
• Targeted anti-poverty programmes
IX. Anti-Poverty Programs:
Year: 2005
Major aims:
a) It provides 100 days of wageemployment to every household to ensurelivelihood security in rural areas.
b) It also aimed at sustainable development to address the cause of draught, deforestation and soil erosion.
c) One-third of the proposed jobs have been reserved for women.
d) The scheme provided employment to 220 crores person days of employment to 4.78 crore households.
e) One-third of the proposed jobs have been reserved for women. The scheme provided employment to 220 crores person days of employment to 4.78 crore households.
f) The share of SC, ST, Women person days in the scheme are 23 per cent, 17 per cent and 53 per cent respectively. The average wage has increased from 65 in 2006-07 to 132 in 2013-14.
Prime Minister RozgarYozana (PMRY)
• Year: 1993
Major aim:
• To create self-employment opportunities for educated unemployed youth in rural areas and small towns.
• They are helped in setting up small business and industries.
Rural Employment Generation Programme (REGP)
• Year: 1995
Major aim:
• To create self-employment opportunities in rural areas and small towns.
• A target for creating 25 lakh new jobs has been set for the programme under the Tenth Five Year plan.
Swarnajayanti Gram SwarozgarYojana (SGSY)
• Year: 1999
Major aim:
• To assistpoor families above the poverty line byorganising them into self -help groupsthrough a mix of bank credit and government subsidy.
Pradhan Mantri GramodayaYozana (PMGY)
• Year: 2000
Major Aim:
• An additional central assistance is given to states for basic services such as primary health, primary education, rural shelter, rural drinking water and rural electrification.

XI. The countries use different poverty line because-
a) Poverty line varies from time and space.
b) Each country uses an imaginary line of its own appropriate for its existing level of development and minimum social norm
c) Eg: In USA who does not own a car is considered a poor while in India owning a car is a luxury.
XII. Vulnerability of Poverty means:
1. Greater chances of certain people or group of people communities of becoming poor or remaining poor.
2. It also means that certain people like widow, physically disabled are more prone to poverty in uncertain situations like natural disaster or calamities.
3. It reflects lack of alternatives and social and economic inability to handle risk.
4. Vulnerable groups have higher probability of getting affected than others in bad times.
5. It is determined by the availability of options for finding an alternative living in terms of assets, education health.
XIII. Social Exclusion:
1. Social exclusion involves denial of fair rights and opportunities to certain groups like Schedule Castes and Schedule Tribes which are enjoyed by the majority group.
2. It means when an individual or group of people are distanced from the mainstream society.
3. It results in inability of the excluded group to participate in basic political, social and economic functions of the society.
4. Social exclusion is both a cause and consequence of poverty.
5. Eg: social exclusion in India is practiced on the basis of caste system and untouchability. Thus leading to lower castes to live in poverty.
Please click the link below to download CBSE Class 9 Social Science Poverty as Challege Notes Set C
Click for more Social Science Study Material
›