Download CBSE Class 9 Social Science Population Chapter Notes in PDF format. All Revision notes for Class 9 Social Science have been designed as per the latest syllabus and updated chapters given in your textbook for Social Science in Standard 9. Our teachers have designed these concept notes for the benefit of Grade 9 students. You should use these chapter wise notes for revision on daily basis. These study notes can also be used for learning each chapter and its important and difficult topics or revision just before your exams to help you get better scores in upcoming examinations, You can also use Printable notes for Class 9 Social Science for faster revision of difficult topics and get higher rank. After reading these notes also refer to MCQ questions for Class 9 Social Science given our website
Population Class 9 Social Science Revision Notes
Class 9 Social Science students should refer to the following concepts and notes for Population in standard 9. These exam notes for Grade 9 Social Science will be very useful for upcoming class tests and examinations and help you to score good marks
Population Notes Class 9 Social Science
POPULATION
The people are important to develop the economy and society. The people make and use resources and are themselves resources with varying quality. Coal was only a piece of rock, until people were able to invent technology to obtain it and make it a 'resource'. Hence, population is the pivotal element in social studies. it is the point of reference from which all other elements are observed and from which they derive significance and meaning. Their numbers, distribution, growth and characteristics or qualities provide the basic background for understanding and appreciating all aspects of the environment. Human beings are producers and consumers of earth's resources. Therefore, it is important to know how many people are there in a country, where do they live, how and why their numbers are increasing and what are their charactertics.
Three major aspects of population are of primary concern
(i) Population size and distributio How many people are there and where are they located?
(ii) Population growth and processes of population change How has the population grown and changed through time?
(iii)Characteristics or qualities of the population What are their age, sex-composition literacy levels, occupational structure and health conditions ?
Census : A census is an official enumeration of population done periodically? In India the first census was held in the year 1872. The first complete census however was taken in the year 1991. Since then censuses have been held regularly every tenth year. The Indian census is the most comprehensive source of demographic, social and economic data.
POPULATION SIZE AND DISTRIBUTION
(a) Indian's Population size and Distribution by Numbers:
(i)  Indian's population as on March 2001 stood at 1028 million, which account for 16.7 per cent of the world's population. These 1.02 billion people are unevenly distributed over our countr'y vast area of 3.28 million square km, which accounts 2.4 percent of the world's area.
(ii) The 2001 Census data reveals that Uttar Pradesh with a population size of 166 million people is the most populous state of India. Uttar Pradesh accounts for about 16 percent of the country's population. on the other hand, the Himalayan state Sikkim has a population of just about 0.5 million and Lakshadweep has only 60 thousand people.
(iii)  Almost half of Indian's population lives in just five states. These are Uttar Pradesh,  Maharashtra, Bihar, West Bengal, and Andhra Pradesh. Rajasthan, the biggest state in terms of area, has only 6.5 percent of the total population of India.
(b) "A Large population has both Economic Advantages and Disadvantages. ':
A large population makes positive contribution to economic growth.
(i) It ensures adequate supply of labor force.
(ii) Large number of people can be trained in all kinds of skills at all levels.
(iii)It provides a ready domestic market for all types of goods. this encourages the producers to produce on large scale.
A large population also work as a serious constraint on economic growth.
(i) National income gets distributed among larger number of people, therefore, per capita income remains low.
(ii) A large part of the national income gets spent on consumption. This reduces the size of savings. Thus, less capital remains available for investment.
(iii) Rising population results in a rise in pressure on land. This adversely affects 7productivity in agriculture.
(iv) Rising population makes increasing demands on infrastructure, both social and economic.
In short, a large part of the national effort goes to maintain the present standards of living. these do not result in any economic improvement. therefore, poverty and unemployment perpetuate.
(c) Indian's Population Distribution by Density
Population density is calculated as the number of persons per unit area. India is one of the most densely populated countries of the world. the population density of India in the year 2001 was 324 persons per sq. km. densities vary from 904 persons per sq. km in West Bengal to only 13 persons per sq km in Arunachal Pradesh.

(i) Low Density: The states of Jammu and Kashmir, Himachal Pradesh, Uttaranchal, Arunachal Pradesh, Nagaland, Manipur, Tripura, Meghalaya, Rajasthan And Madhya Pradesh Have Very Low Population Density. Rugged terrain and unfavorable climatic conditions are mainly responsible for the sparse population in these areas.
(ii) Moderate Density: The bulk of the peninsula blocks and Assam have moderate density of population. Distribution of population is influenced here by the rocky mature of the terrain, low to moderate rain, and shallow and less fertile soil.
(iii) High density : They Northem Plains, Tamil Nadu and Kerala have high to very high density of population because of the plain terrain, rice and fertile soil, abundant rainfall  and moderate climate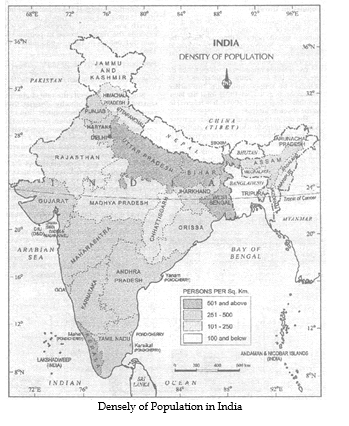 POPULATION GROWTH AND PROCESSES OF POPULATION CHANGE
population is a dynamic phenomenon. the numbers, distribution and composition of the population are constantly hanging. this is the influence of the three processes, namely – births, deaths and migrations.
(a) Population Growth:
(i) Growth of population refers to the change in the number of inhabitants of a country / territory during a specific period of time. Such a change can be expressed in two ways: in terms of absolute numbers and in terms of percentage change per year.
(ii) The absolute number added each year or decade is the magnitude of increase. It is obtained by simply subtracting the earlier population form the later population. It is referred to as the absolute to as the absolute increase. When a low annual rate is applied to a very large population, it yields a large absolute increase. India's current annual increase in population of 16.5 million is large enough to neutralize efforts to conserve the resource endowment and environment.
(iii) The rate or the pace of population increase is the other important aspect. it is studied in percent per annum, e.g. a rate of increase of 2 percent per annum means that in a give year, there was an increase of two persons for every 100 persons in the base population. this is referred to as the annual growth rate.
(iv) India's population has been steadily increasing from 361 million in 1951 to 1028 million in 2001. From 1951 to 1981, the annual rate of population growth was steadily increasing. Since 1981, however, the rate of growth started declining gradually. During this period, birth rates declined rapidly. The declining trend of growth rate is indeed a positive indicator of the efforts of birth control. Despite that, the total additions to the population       base continue to grow, and India may overtake China in 2045 to become the most populous country in the world.
(b) Processes of Population change / Growth :
There are there main processes of population change. They are :
(i) Birth rates                            (ii) Death rates and                             (iii) Migration.
The natural increase of population is the difference between birth rates and death rates.
Birth rate: Birth rate indicates the number of births in a country during a year per 1,000 population.
Death rate: Death rate indicates the number of deaths in a country during a year per 1,000 population.
Main cause of the rapid rate of growth of the Indian population is the fast decline in death rates.
Since 1981, birth rates have started declining gradually, resulting in a gradual decline in the rate of population growth. The reasons for this trend are:
(i) Most of the people especially in urban areas have adopted two child norm.
(ii) Birth rate has also declined at a faster rate.
(iii) Standard of living has increased considerably.
(iv) Women folk are more conscious of their health.
(v) Family Welfare Schemes are being adopted in a big way.
(vi) Muslim population is also trying to keep their family small.
Migration: Migration means movement of people across regions and territories. Migration can be internal or international. In India, most  migrations have been from rural; to urban areas because of the 'push' factor in rural areas. These are adverse conditions of poverty and unemployment in the rural areas and the 'pull' of the city in terms of increased employment opportunities and better living conditions. Migration is an important determinant of population change. It changes not only the population size but also the population composition of urban and rural populations in terms of age and sex composition. In India, the rural-urban migration has resulted in a steady increase in the percentage of population in cities and towns. The urban population in has increased from 17.29 percent of the total population in 1951 to 27.28 percent in 2001. There has been a significant increase in the number of 'million plus cities' from 23 to 35 in just one decade i.e. 1991 to 2001.
Impact of Urbanisation in India:
(i)  Rapid Urbanisation leads to lack of facilities like housing, sanitation, water, power and education, etc. slums and other social tensions are created. Crime rate increases.
(ii)  it puts heavy pressure on transport. Heavy rush on roads creates transport problems traffic jams, accidents, etc. high Urbanisation creates congestion and pollution it reduces forest cover and agricultural land. This leads to ecological imbalance and environmental pollution.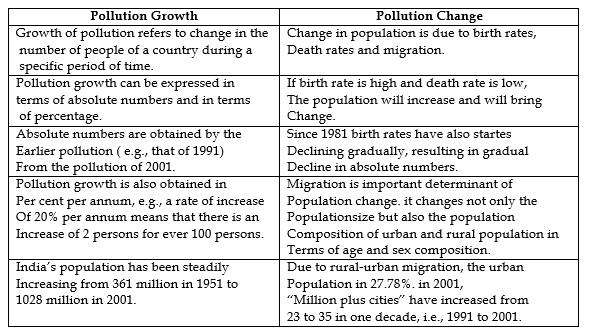 (c) Age composition:
Age composition of a population is the number of people in difference age groups in a country. it is one of the most basic characteristics of a population. A person's age influences what he needs, buys, does and thinks. Number and percentage of a population found within the children (young), adult (middle aged) and the aged (old) groups determine population's social and economic structure.
Age composition of population is expressed in terms of three broad age groups –
(i) Children below the working age (below 15 years) – They are economically unproductive and need to be provided with food, clothing, education and medical care.
(ii) Working Age (15 to 59 years) -  they are economically productive and biologically reproductive.they comprise the working population.
(iii) aged (above 59 years) – They can be economically productive through they may have retired. They may be working voluntarily but they are not available for employment through recruitment.
The dependent population is either in the age group of below 15 years or in the age group of over 59 years. 41.3 % of Indian population who depend on 58.7% of Indian population who are of working age.  So the percentage of dependent population is quite large. This is putting heavy burden on the families and State.
(d) Sex Ratio:
Sex ratio is defined as the number of females per 1000 males in the population. According to the 2001 census, the sex ratio in India was 933 females per 1000 males. This information is an important social indicator to measure the extent of equality between males and females in a society at a given time. The sex ratio in the country has always remained unfavorable to females. Kerala has a sex ration of 1058 females per 1000 males, Pondicherry has 1001 females for ever 1000 males, while Delhi has only 821 females per 1000 and Haryana has just 861.
(e) Literacy Rates:
Literacy is a very important quality of a population. Low levels of literacy are a serious obstacle for economic improvement. According-to-the Census of 200, a person aged 7 years and above who can read and write with understanding in any language, is treated as literate. The literacy rate is the county as per the Census of 2001 is 64.84 percent; 76026 per cent for males and 53.67 per cent for females.
(f) Occupational structure:
"The distribution of working population of an economy according to different occupations is known as occupational distribution of population or occupational structure. " On the basis of economic activities the Central Statistical Organisation divides the Indian economy into three main sectors:
(i) Primary Sector: Agriculture, animal husbandry, forestry, logging, fishery etc. are collectively known as Primary activities. these are primary because production is carried on with the help of nature.
(ii)  Secondary Sector: Manufacturing industries are known as Secondary activities. All manufacturing units like small-scale industry, large-scale industry, construction work etc.  are included in secondary sector.
(iii) Tertiary Sector: It is sector which provides services to both primary as well as secondary sector. it includes transport, communication, banking, insurance, public administration,  defense etc.
Developed nations have a high proportion of people in secondary and tertiary activities. developing countries tend to have a higher proportion of their workforce engaged in primary activities. In India, about 64 percent of the population is engaged only in agriculture. the proportion of population dependent on secondary and tertiary sectors is about 13 and 20 per cent respectively.
Need to change the present occupational structure of India:
(i) Too much dependence on agriculture: There is too much pressure on agriculture which cannot bear such a burden. Average productivity of workers in agriculture is very low.
(ii) To remove disguised unemployment: Disguised unemployment is a curse because agriculture is facing this problem and to remove this there is a need to change the present occupational structure.
(iii) To increase the production: Because low percentages of workers are engaged in production so rate of production is low.
(iv) To remove poverty and unemployment: A change of occupational structure is necessary to remove poverty and unemployment.
(v) For balanced economic development: A change of occupational structure is also required for balanced economic development.
(g)  Health:
health is an important component of population composition, which affects the process of development. due to the sustained efforts of government programmes death rates have declined from 25 per 1000 population in 1951 to 8.1 per 1000 in 200 and life expectancy at birth has increased from 36.7 years in 1951 to 64.6 years in 2001. the substantial improvement is the result of many factors including improvement in public health, prevention of infectious diseases and application of modern medical practices in diagnosis and treatment of ailments.
Despite considerable achievements, the health situation is a matter of major concern for India. The per capital calorie consumption is much below the recommended levels and malnutrition affects a large percentage of our population. Safe drinking water and basic sanitation amenities are available to only one-third of the rural population.
Advantages of having healthy population:
(i) It is the healthy population which is considered the most important resource.
(ii) Healthy population decreases the dependency ratio.
(iii) It is healthy population which can make full use of natural resources.
(h) Adolescent Population:
The most significant feature of the Indian population is the size of its adolescent population. It constitutes one-fifth of the total population of India. Adolescents are generally grouped in the age-group of 10 to 19 years. They are the most important resource for the future. Nutrion requirements of adolescents are higher than those of a normal child or adult. Poor nutrition can lead to deficiency and stunted growth. The diet available to adolescents is inadequate in all nutrients. A large number of adolescent girls suffer from anemia. Their problems have so far not received adequate attention in the process of development.
(i) National Population Policy:
Recognizing that the planning of families would improve health and welfare, the Government of India initiated the comprehensive Family Planning Programme in 1952. the Family welfare Programme has sought to promote responsible and planned parenthood on a voluntary basis.
Major features of NPP 2000:
(i) The NPP 200 provides a policy framework for imparting free and compulsory school education to the children up to 14 years of age.
(ii) It aims at reducing infant mortality rate to below 30 per 1000 live births. another aim is to achieve universal immunization of children against all vaccine preventable diseases.
(iii) Promotion of delayed marriage for girls.
(iv) It also aims at making family welfare a people centered programme.
(j) Adolescents and NPP 2000:
NPP 2000 identified adolescents as one of the major sections of the population that need greater attention. Besides nutritional requirements, the policy put greater emphasis on other important needs adolescents including protection from unwanted pregnancies and sexually transmitted diseases (STD). it called for programmes that aim towards encouraging delayed marriage and child bearing, education of adolescents about the risks of unprotected sex, making contraceptive services accessible and affordable, providing food supplements, nutritional services, strengthening legal measures to preventy child marriage.
Click for more Social Science Study Material
›