CBSE Class 12 Computer Science Sample Paper SA2 2015 (7). CBSE issues sample papers every year for students for class 12 board exams. Students should solve the CBSE issued sample papers to understand the pattern of the question paper which will come in class 12 board exams this year. The sample papers have been provided with marking scheme. It's always recommended to practice as many CBSE sample papers as possible before the board examinations. Sample papers should be always practiced in examination condition at home or school and the student should show the answers to teachers for checking or compare with the answers provided. Students can download the sample papers in pdf format free and score better marks in examinations. Refer to other links too for latest sample papers. 
 1. (a) Differentiate between a default constructor and copy constructor, giving suitable examples of each.
(b) Name the header files to which the following belong :
(i) puts ( )
(ii) isalnum ( )
(c) Rewrite the following program after removing the syntactical error(s), if any. Underline each correction. 2
#include <iostream.h>
const int Dividor 5;
void main()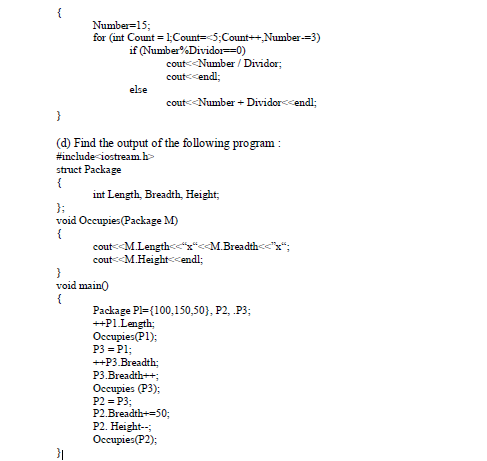 Please click the link below to download full pdf file for CBSE Class 12 Computer Science Sample Paper SA2 2015 (7).
Click for more Computer Science Study Material
›