CBSE Class 2 EVS Practice Worksheets (39) - Habits
Worksheets have become an integral part of the education system. Worksheets are very critical for every student to practice his/ her concepts. Students, teachers and parents can download all CBSE educational material and extremely well prepared worksheets from this website. All revision worksheets, Sample papers, Question banks and easy to learn study notes for all classes and subjects have been prepared based on the latest guidelines sent by CBSE. All CBSE educational material is developed by our panel of teachers, have also been submitted by thousands of teachers and students. The study material has been carefully compiled by the best teachers in India. Worksheets have been submitted by teachers of various CBSE schools and also have been carefully developed keeping into consideration the latest CBSE syllabus.
Q1 Fill in the blanks with the given words :-
     bath, hair, clean, body, ears
(a) Wear ____________ clothes everyday.
(b) Clean your _____________ with cotton buds.
(c) Keep your ___________ clean and well combed.
(d) Exercise keeps your ___________ fit.
(e) Take a ___________ everyday.
Q2 For good habits colour the boxes GREEN and for bad habits RED.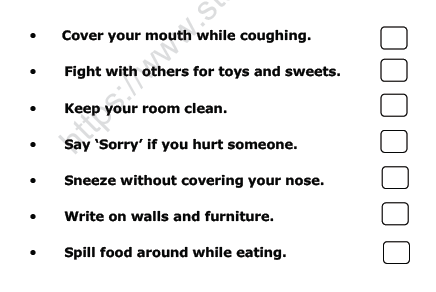 Please click the below link to access CBSE Class 2 EVS Practice Worksheets (39) - Habits
Click for more Environmental Studies Study Material
›