Download CBSE Class 9 Science Motion Notes in PDF format. All Revision notes for Class 9 Science have been designed as per the latest syllabus and updated chapters given in your textbook for Science in Standard 9. Our teachers have designed these concept notes for the benefit of Grade 9 students. You should use these chapter wise notes for revision on daily basis. These study notes can also be used for learning each chapter and its important and difficult topics or revision just before your exams to help you get better scores in upcoming examinations, You can also use Printable notes for Class 9 Science for faster revision of difficult topics and get higher rank. After reading these notes also refer to MCQ questions for Class 9 Science given our website
CBSE Class 9 Motion Concepts. Learning the important concepts is very important for every student to get better marks in examinations. The concepts should be clear which will help in faster learning. The attached concepts made as per NCERT and CBSE pattern will help the student to understand the chapter and score better marks in the examinations.
Chapter−8
Motion
Motion (Uniform Motion And Non Uniform Motion, Acceleration and Velocity)
• A particle is a point-like object, has mass but infinitesimal size
• The object's position is its location with respect to a chosen reference point, In the diagram, the road sign the reference point
• Motion occurs when an object changes its position.
Both Distance and Time are important in describing motion.
• Sometimes you know motion has occurred even if you didn't see it happen. (mail truck)
• Relative motion: when two objects are moving in a plane (either in same direction or opposite) each have relative motion with respect to second. e.g. a person sitting in a train and watching a tree, in this case tree is stable but is assumed to be moving but with respect to train.
Distance vs. Displacement
• Distance: How far an object has moved. It has only magnitude without direction. (total)
• Displacement: How far and in what direction an object has moved from its start position. i.e. the direct distance between two points.
Speed
• Speed = the distance an object travels in a given amount of time
• Speed = distance/time
• sI unit of speed is m/s
Types of Speed
• Constant speed: speed doesn't change (set your car on cruise control)
• Changing speed: Riding a bike for 5 km. Take off and increase speed, slow down up hill, speed up down hill, stop for stop sign. The trip took you 15 min (.25 h)
• Average speed:
• Instantaneous speed: speed at any given time.
Velocity
• Velocity: includes speed and DIRECTION
• Storm is moving at 20km/hr.
• Should you be seeking shelter?
• Suppose two trains are going with the same speed in opposite direction so they are having different velocities.
• Race car going around an oval track might have constant speed, but different velocities at each point.
Acceleration
• Any change in velocity over a period of time is called acceleration.
• The sign (+ or -) of indicates its direction. + sign shows the acceleration and – sign shows de-acceleration.
• Uniform (constant) acceleration equation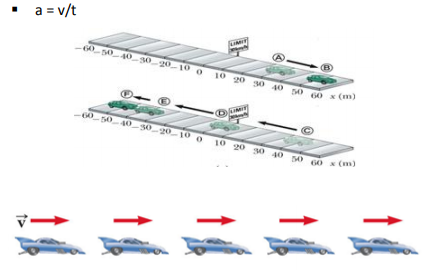 Please click the link below to download pdf file for CBSE Class 9 Motion Concepts.
Click for more Science Study Material
›