Download CBSE Class 9 Science Force And Laws Of Motion Notes Set A in PDF format. All Revision notes for Class 9 Science have been designed as per the latest syllabus and updated chapters given in your textbook for Science in Standard 9. Our teachers have designed these concept notes for the benefit of Grade 9 students. You should use these chapter wise notes for revision on daily basis. These study notes can also be used for learning each chapter and its important and difficult topics or revision just before your exams to help you get better scores in upcoming examinations, You can also use Printable notes for Class 9 Science for faster revision of difficult topics and get higher rank. After reading these notes also refer to MCQ questions for Class 9 Science given our website
CBSE Class 9 Force & Laws Of Motion. Learning the important concepts is very important for every student to get better marks in examinations. The concepts should be clear which will help in faster learning. The attached concepts made as per NCERT and CBSE pattern will help the student to understand the chapter and score better marks in the examinations.
Chapter–9 
"Force & Laws Of Motion''
1 Balanced and Unbalanced Forces
Balanced Forces The net force is when two or more forces are applied on the same object and at the same time. The applied forces combined are called the net force. = 0 25 N 25 N Balanced Forces The force I apply in one direction plus the force you apply in the opposite direction are added together. 25 N -25 N = 0 Because the forces are equal and balanced…just like a balanced scale…this is an example of balanced forces. Unbalanced Forces What does it mean to have something unbalanced? Unequal, not the same, different How could we have unbalanced forces?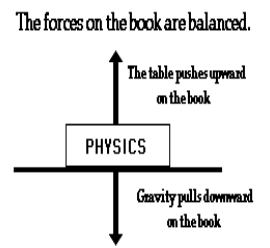 Unbalanced Forces A force is applied in one direction and either another smaller or larger force is applied in the opposite direction or no force is applied at all in the opposite direction.
Unbalanced Forces  if i have chair and i puch on one side  of it with a force of 50 N and you push on the other side, with a force of 25 N, will the chair move? Which way will it move? The direction in which the most force is applied. What is the net force? 50 N 25 N. Unbalanced Forces 50N -25N = 25N These forces are unequal so the forces are considered unbalanced forces. 50 N 25 N = 25 N Unbalanced Forces If I push the chair in one direction with 25 N force and you push the chair in same direction with 25 N force, will the chair move? Why? Because the applied net force is UNBALANCED! Unbalanced Forces 25 N 25 N = 50 N The result would be the chair moving in the direction it was pushed with a combined force of 50 N.
Test Yourself
1. An object of 5 kg is acted upon by two forces, 70 N each in opposite directions. What is its acceleration?
2. Why does an object accelerate during free fall?
2 Laws of Motion
Newton's First Law 1st Law – An object at rest will stay at rest, and an object in motion will stay in motion at constant velocity, unless acted upon by an unbalanced force. An object at rest will stay at rest, and an object in motion will stay in motion at constant velocity, unless acted upon by an unbalanced force.
Newton's Second Law "If the net force on an object is not zero, the object will accelerate. The direction of the acceleration is the same as the direction of the net force. The magnitude of the acceleration is directly proportional to the net force applied, and inversely proportional to the mass of the object."
Mathematical symbols provide a convenient shorthand for all of this:
a=Fnet/m or Fnet=ma 
Please click the link below to download pdf file for CBSE Class 9 Force & Laws Of Motion.
Click for more Science Study Material
›