What is flash and its uses
Flash 8 is a powerful tool created by Macromedia that has overcome the best expectations of its creators. Macromedia Flash was originally created in an effort to realize colorful animations for the web as well as to create animated GIFs. Designers, web professionals and amateurs have selected Flash 8 by many reasons.

Why should I use FLASH 8?
The possibilities of Flash are extraordinary, each new version has outstripped the previous one, and the present Flash 8 is not an exception. Although its common usage is to create animations has far more applications. They are so numerous that all web designers should learn how to use Flash.
Flash has been made up in order to fix the great lack in the Internet: that is, Dynamism. This dynamism does not imply only animations but rather interactive animations, which allow users to see the web as something attractive, not static (unlike most of the pages that are made by the use of the HTML language). With Flash we can easily and quickly create animations of all types.
It is easy to learn how to handle Flash, it has a friendly environment that invites us to sit down and spend hours making whatever our imagination suggests, but that is not sufficient to be preferred by professional designers
Features of flash
• Attractive Designs: Flash 8 allows the using of visual effects that will ease the creation of animations, presentations and forms more attractive and professional
• Font Optimization: It also includes some readability options for small sized fonts, what makes our texts more comfortable to read.
• Consolidated Libraries: Now you can search any object existent in our movies faster, browsing our open libraries from a single panel.
• More powerful animation: Flash 8 allows much more control of the interpolations setting a new edition mode form which you will edit the velocity the rotation, shape, color and movement are applied.
• More powerful graphics: Avoid the unnecessary representation of vectorial objects setting an object as a bitmap.
• Improvements in video importing: To ease the working with video formats, Flash 8 provides high-quality new independent codec, completely skinnable.
• Metadata Compatibility: Include your SWF files in searching engines defining a title, description and/or keywords.
• Mobile devices Emulator: Preview your Flash Lite compatible mobile devices movies oriented with the new emulator Flash 8 includes.
Creating animation
One of the main characteristics of Flash 8 is its simplicity, the straightforwardness in its use allows to create animations in an effective and quick way.
Let's suppose you want to create an animation in which a globe goes up and down. It may seem a job for long hours, but it is not as bad. Let's see how easy is to handle it with Flash.
At first glance, it seems logical to draw the globe at each moment, so that growing number of moments makes the movement more real: the more drawn instants, the more realistic movement.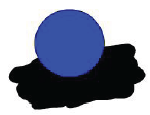 Nevertheless, with Flash it is sufficient to create only 3 frames: firstly, we will draw the globe at the initial instance (above all), secondly, we will draw the globe at the moment when it touches the ground and then the globe will come back to its initial position (actually you can create this frame by making a copy of the first one). So far as we see now, most part of the work (drawing objects) is already done.
Click for more Computer Science Study Material
›