Audio and Video Conferencing
An audio conference, or teleconference, is simply when a meeting between several parties is held over the telephone instead of in person. The party instigating the audio-conference is known as the calling party and those joining the call are known as the participants.
Videoconferencing is the conduct of a videoconference (also known as a video conference or video teleconference) by a set of telecommunication technologies which allow two or more locations to communicate by simultaneous two-way video and audio transmissions.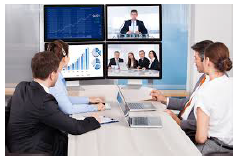 Use of It
1. Video and audio, or just audio connection between two computers communicating via the Internet.
Examples of free audio conferencing software: Gizmo, Skype both enable users to speak to other Gizmo/Skype users free of charge Examples of free video conferencing, software: iVisit (cross platform), iChat (Mac only), NetMeeting (Windows only).
2. Breeze can also be used for video conferencing
3. Transmitted to & received from any computer in any location that has Internet. User must have microphone, can have camera. Ideally every user has microphone (camera not essential) for synchronous communication.
4. Technology requirements for video/audio conferencing:
• Computer with access (ideally broadband) to the Internet.
• Browser.
• Speakers to hear audio.
• Microphone (to contribute audio).
• Web camera to contribute video.
Factors affecting Video Quality
The speed of the network connection is one of the biggest contributors to quality. If the network connection is slow or unstable (such as over the open internet) the video session can be unusable. Newer equipment (manufactured after 1999) can produce excellent motion pictures from even slow speed connections and therefore can significantly contribute to better quality images.
Some seemingly minor factors can seriously affect quality. Microphone placement and function significantly affect video conference quality because the audio clarity of a meeting is critical to the perception of quality. Further, the amount of movement the meeting participants create, if great, can cause codecs (the video conferencing engine) to create blurred images as they process communications signals. Finally, the type-size of fonts used in computer presentations if too small can be illegible to both near and far-end meeting participants. Tec phonic can offer assistance with all of these quality factors and more. Contact us for more information.
Usefulness of Video Conferencing
Video conferencing can be used in a host of different environments, which is one of the reasons the technology is so popular. General uses for video conferencing include business meetings, educational training or instruction and collaboration among health officials or other representatives.
Thus far video conferencing has been used in the following fields:
• Business: Videoconferencing provides businesses with the ability to meet and to work with others over a distance.
• Distance Learning: Videoconferencing is an exciting technology for education. Teachers and students are able to see each other, share documents and discuss topics together in a situation similar to a traditional classroom setting
• Telecommuting / Home Offices: Working out of home has never been easier or more practical. Videoconferencing makes it possible to stay connected with people in a very real way.
• Legal Environment: The use of videoconferencing technology is becoming more prevalent in today's courtrooms. Videoconferencing systems are used to enable testifying witnesses to "appear" in court without having to travel to the courtroom.
• Telemedicine: There are times when a person needs medical advice but is unable to visit their personal physician or even more likely, a specialist. In such situations using videoconferencing can make all the difference.
Click for more Computer Science Study Material
›