Downloading/Uploading Speed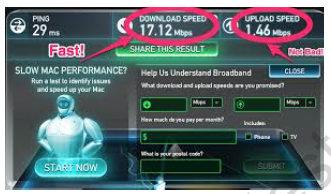 Download
When you connect to the internet, the download speed is the pace at which data (websites, programmers, music etc.) is transferred from another computer to your own. Currently, when it comes to home broadband, download speeds range from 8 Mbps to 100 Mbps
Upload speed on the other hand is the speed at which data (such as your pictures and videos) is uploaded to the internet – perhaps to put onto a social networking site such as Facebook, or filesharing site such as Flickr; Essentially, the upload is going in the opposite direction to the download –
from your computer to someone else's.
Broadband upload speeds are generally much slower than download speeds. The reason for this is that people generally do far more downloading than uploading, and as such downloading is given priority by internet service providers (ISPs).
The time that it takes to upload or download a file depends on several factors. The main factor is the digital size of the file, which is measured in bytes. The larger the file, the longer it takes to transfer the information in it. 
The quality of the connection from the Internet or central server to the smaller computer or device also makes a difference in the transfer speed. A computer that has high-speed Internet connection will be able to download or upload a file much more quickly than a computer that has a low-speed connection would. In addition, the speed of the server on which the file is stored can affect upload times or download times.
Background Operations
Uploading and downloading occur frequently, often without the user being aware that he or she is doing it. For example, incoming email is downloaded from a server, and outgoing emails are uploaded to be sent out.
Example 
1. Songs, Videos, files from the net 
2. Text or Images that are displayed on your browser
Uploading
1. Sending emails 
2. Posting Comments, status or pics on various social networking sites
Click for more Computer Science Study Material
›