Read and download CBSE Class 10 Mathematics Question Paper 2014 Set 1 - Foreign designed as per the latest question paper pattern and Class 10 examination guidelines issued by CBSE, NCERT and KVS. The past year Question Papers for Class 10 Mathematics have been provided with solutions which will help students to assess their performance and find out topics in Mathematics grade 10 which they need to improve to get better marks in Standard 10 exams. After solving these last year papers also refer to solved Sample Papers for Class 10 Mathematics available on our website to build strong understanding of the subject
Mathematics Question Paper Class 10 2014
Students can refer to the below Class 10 Mathematics Question Paper designed to help students understand the pattern of questions that will be asked in Grade 10 exams. Please download CBSE Class 10 Mathematics Question Paper 2014 Set 1 - Foreign
Mathematics Class 10 Question Paper 2014
CBSE Class 10 Mathematics Question Paper 2014 Set 1 - Foreign. Students can download the last year question papers using the link below. Free download of examination question papers with solutions. Last 10 year question papers should be practised to get better marks in examinations.
 SECTION A
1.The next term of the A.P. √7, √28, √63, ... is
(A) √70
(B)√84
(C) √97
(D) √112
2.In Figure 1, a quadrilateral ABCD is drawn to circumscribe a circle such that its sides AB, BC, CD and AD touch the circle at P, Q, R and S respectively. If AB = x cm, BC = 7 cm, CR = 3 cm and AS = 5 cm, find x.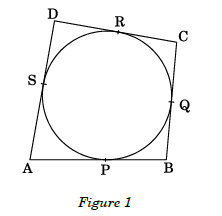 (A) 10
(B) 9
(C) 8
(D) 7
Please refer to the link below for CBSE Class 10 Mathematics Question Paper 2014 Set 1 - Foreign