CBSE Class 6 Science Motion and Measurement of Distances Exam Notes. There are many more useful educational material which the students can download in pdf format and use them for studies. Study material like concept maps, important and sure shot question banks, quick to learn flash cards, flow charts, mind maps, teacher notes, important formulas, past examinations question bank, important concepts taught by teachers. Students can download these useful educational material free and use them to get better marks in examinations.  Also refer to other worksheets for the same chapter and other subjects too. Use them for better understanding of the subjects.
Motion and Measurement of Distances

WHAT IS MOTION
We see many things moving around us. A boy walking along a road, a man running a race, a boy driving a car, a speeding truck.
In all these examples you will observe that the bodies keep on changing their position with respect to other objects. When we consider whether a body is moving or not, we usually take stationary objects such as trees, houses, electric poles on the surface of the earth as references.
REST
A body is said to be at rest (or in a state of rest) when it does not change its position with respect to its surrounding objects. For example, buildings, plants are all at rest.
TYPES OF MOTION
Translatory Motion: Translatory motion is that in which all the particles of a body moves along a straight path with same speed. The motion of a drawer of a table, a moving car or train, the movement of an aeroplane, a boy sliding down a slope, stone hurled from a catapult are some examples of translatory motion.
When a body moves along a straight line, it is called rectilinear motion. When a body moves along a curved
line, it is called curvilinear motion.
Circular Motion: When an object moves about a fixed point keeping the distance same, then the object
is said to be an circular motion. Motion of earth about sun, motion of moon about earth are the examples of circular motion.
Rotatory Motion: Rotatory motion is that in which a body moves about a fixed axis without changing its
position.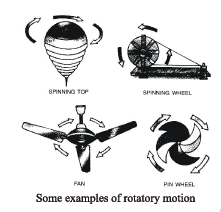 In some cases, you find that translatory and rotatory motions occur simultaneously. The wheels of a bicycle, car, train, bus, truck, perform rotatory motion along the axis and at the same time perform translatory motion on the road. Rolling is a combination of rotational and translatory motions.
Oscillatory Motion: Oscillatory motion is that in which a body moves to and fro about its mean position.
Observe the things that perform oscillatory motion in your surroundings.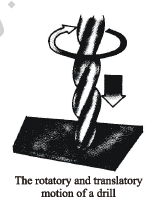 The motion of a swing and the pendulum of a clock show oscillatory motion.
Periodic Motion: Periodic motion is that which repeats itself after regular intervals of time. The motion of the Moon round the Earth, the motion of a clock pendulum, heartbeat, and pulse movement are a few examples of periodic motion. Periodic motion can be used to measure time intervals. Can you say
why?
Measurements
Measurement is one of the most useful processes in science and in our daily life. We all make measurements in our daily life whether we are in a factory, laboratory or a shop or at home.
Quantities: Any thing that we measure is called as quantity. Like we measured distance and time so, these are quantities.
The quantities are of two types depending on their dependency. These are
i) Fundamental quantities (independent)
ii) Derived quantities (dependent on fundamental quantities)
S.I. system is known as the standard system of measurement or International system of measurement.
Following are the fundamental quantities in this system: 
Please click the link below to download CBSE Class 6 Science Motion and Measurement of Distances Exam Notes.
Click for more Science Study Material
›