CBSE Class 8 Science Sample Paper Set L. It's always recommended to practice as many sample papers as possible before the examinations. Students can download the sample papers and also question papers of previous years to practice and score better marks in examinations. Refer to other links too for more sample papers.
Multiple Choice Questions Ill
1. The living content of the cell is called:
(a) Cytoplasm (c) Nucleus (b) Protoplasm (d) Genes
2. During adolescence, several changes occur in the human body. Mark the change associated with sexual maturity in boys.
(a) Loss of milk teeth (b) Weight gain (c) Growth of beard (d) Increase in Height
3. A gas which is not a green house gas is :
(a) Methane (b) Nitrogen (c) Carbon Dioxide (d) Sulphur Dioxide
4. Which of the following planets has no satellite?
(a) Mars (b) Mercury (c) Jupiter (d) Saturn
5. Which one is not the name of Saptarshi constellation?
(a) Ursa Major (b) Leo Major (c) Big Dipper (d) Great Bear 
6. Which of these exhibits external fertilization?
(a) Human beings       (b) Dogs
(c) Frogs                   (d) Monkeys
7. Which is the largest animal cell?'
(a) Hen's egg (b) Ostrich's egg
(c) Snake's egg (d) Crocodile's egg
8. Asteroids are found between the orbits of
(a) Earth and Mars          (b) Mars and Jupiter
(c) . Earth and Mercury   (d) Mercury and Venus
9. Which of the following cannot be charged easily by friction?
(a) A plastic scale          (b) A copper rod
(c) An inflated balloon   (d) A woolen cloth
10. Petroleum and Natural gas are often found together in large deposits deep inside the earth crust. What is the correct order in which these are present in the earth?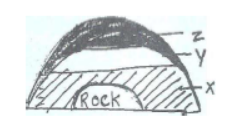 X               y                z
(a) Water          Crude oil      Natural Gas
(b) Water        Natural Gas     Crude oil
(c) Crude oil       Water         Natural Gas
(d) Natural Gas   Water.         Crude oil
Please click the link below to download CBSE Class 8 Science Sample Paper Set L.
Click for more Science Study Material
›