CBSE Class 10 French Sample Paper Set A. It's always recommended to practice as many CBSE sample papers as possible before the examinations. The latest sample papers have been designed as per the latest blue prints, syllabus and examination trends. Sample papers should be practiced in examination condition at home or school and also show it to your teachers for checking or compare with the answers provided. Students can download the sample papers in pdf format free and score better marks in examinations. Refer to other links too for latest sample papers.
Section-A (Comprehension Ecrite)
1 Regardez bien la publicite' du portable: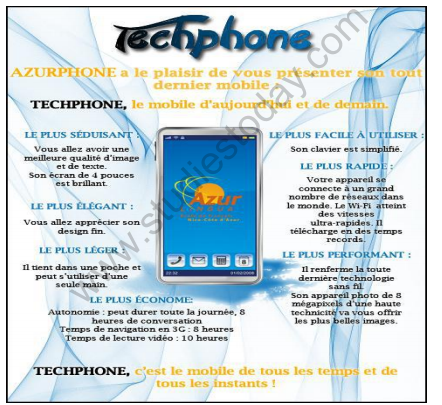 A. Lisez bien le document publicitaire ci-dessus et puis répondez aux affirmations suivantes par vrai ou faux:
i. Le I phone ne pèse (weigh) pas lourd (heavy).
ii. Le modèle présenté est compat.
iii. La navigation est lente (slow) mais hautement (highly) sécurisée.
iv. Le I phone diffuse lentement des contenus (contents).
v. Peut s'utiliser 8 heures en continue.
vi. Son écran (screen) de 4 pouces offre une moins bonne qualité d'image et de texte.
Please click the link below to download the full pdf file for CBSE Class 10 French Sample Paper Set A.
Click for more French Study Material
›