CBSE Class 2 EVS Sample Paper Set N. Sample Papers are the very important for every student. The sample papers should be practiced to gain extra marks in examinations. The sample papers have been prepared based on summative assessment1 and summative assessment 2 pattern. The sample papers have been prepared based on pattern of last year examinations and as per latest changes in the syllabus. Students, teachers and parents can download all CBSE educational material and very well prepared worksheets from this website.  All CBSE educational material is developed by our panel of teachers, have also been submitted by CBSE teachers and students.
SECTION – A
I Tick (√) the correct option. (1x7)
1. People who do not eat fish or meat are called
a)vegetarians b) non-vegetarians c) eggetarians
2. Pulses, meat, eggs and milk are
a) Protective food b) body building food c) energy giving food
3. We get cotton from
a) Silk worm b) cotton plant c) sheep
4. Woollen clothes are worn in
a) Winter b summer c) rainy
5. We must drink plenty of clean
a) Cola b) water d) tea
6. Fruits and vegetables protect us from
a) Animal b) friends c) diseases
7. Special clothes that some people wear in their profession
a) Casuals b) party dress c) uniform
1. Fibres which are made in factories are ___________ fibres.
2. ______________ is the special thread made by silkworm.
3. Cotton cloths keep us ___________.
4. We eat __________ to grow.
5. We eat ____________ main meals in a day.
6. Food gives us ___________ to work ad play.
7. We should practice _________ food habits.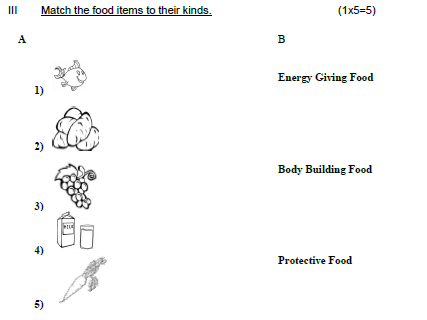 IV Write true or false for the following sentences. (1x6=6)
1. We should eat fresh and clean food. ___________
2. We must overeat food. ___________
3. We must always wash our hands before and after eating food ___________
4. Cotton, silk and wool are man-made fibres. ___________
5. The hair of the sheep is spun into wool. ___________
6. Clothes protect us from cold, rain, and heat ___________
V Give one word for the following sentences. (1x6=6)
1. A clothing material made from the skin of dead animals. ___________
2. Types of clothes we wear in summer ___________
3. People who eat fish or meat are called ___________
4. We get fruits and vegetables from these ___________
5. Curd, cheese, butter and ghee are made from ___________
6. The meal we eat at night is called ___________
SECTION – B
Answer the following questions. (2x6=12)
VI Why do we need food?
Space
VII Name two energy giving foods?
Space
VIII Why do we wear woollen clothes in winter?
Space
IX Name any two man made fibres?
Space
X Write two good food habits.
Space
XI Draw and colour any two articles we use in rainy season.
Space
Please click the below link to access CBSE Class 2 EVS Sample Paper Set N.
Click for more Environmental Studies Study Material
›