Download printable Other Subjects Class 10 Worksheets in pdf format, CBSE Class 10 Painting Shape And Form Worksheet Solved has been prepared as per the latest syllabus and exam pattern issued by CBSE, NCERT and KVS. Also download free pdf Other Subjects Class 10 Assignments and practice them daily to get better marks in tests and exams for Grade 10. Free chapter wise worksheets with answers have been designed by Standard 10 teachers as per latest examination pattern
Worksheet for Class 10 Other Subjects Painting Shape And Form
Class 10 Other Subjects students should refer to the following printable worksheet in Pdf for Painting Shape And Form in Grade 10. This test paper with questions and solutions for Standard 10 Other Subjects will be very useful for tests and exams and help you to score better marks
Painting Shape And Form Class 10 Other Subjects Worksheet Pdf
PAINTING
THEORY Unit – I – (B)Fundamentals of Painting (The Elements of Art)
Shape and Form
A shape is an enclosed space defined by a line or by contrast to its surroundings. A shape generally has length, breadth, direction and general characteristics. A shape is created when an artist draws an outline with a pencil or colour and defines the space on paper. Thus a shape denotes the enclosed space with a particular lenghth and breadth. Shapes are generally two – dimensional such as circle, square, triangle etc. Shapes can be geometric (square, circle, triangle etc.) or organic (leaf, flower, water drop etc.). Form is a three dimensional object or a defined volume in space. Forms could also be categorized as geometric or organic in nature. Shape can be created by filling space with colour or shading work. When an illusion of depth and volume is created with the help of lines, shading, colour, texture etc. it becomes a three dimensional shape. In its two dimensional form it has no volume or depth but only an illusion of it. Thus, light and shade create a three-dimensional effect on a two-dimensional object.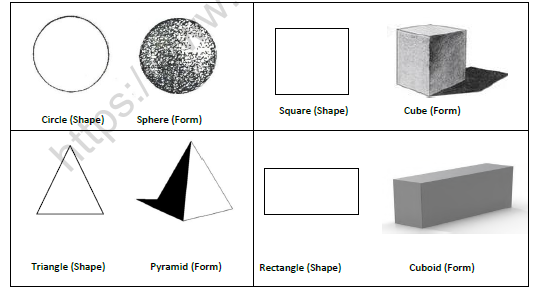 Shape and Space
Space is limitless and infinite. The earth revolves in space. It has a defined form. Similarly in drawing, sculpture and architecture a specific part of space gets defined. A space thus limits a portion of space.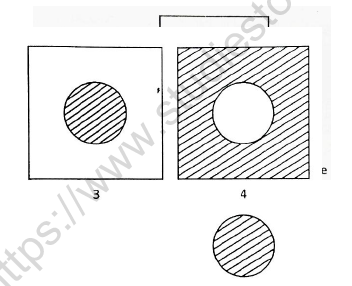 • An occupied space in a
defined space: Shape
• If the shape from the defined space is removed the defined open space in the defined frame also becomes a shape.
When an artist divides the space in the picture frame with any shape of his choice he creates two shapes. The shapes and the open space in a picture share a close relationship. The concept of positive and negative space helps to distinguish between the open spaces and shapes.
Please click on below link to download CBSE Class 10 Painting Shape And Form Worksheet Solved
Books recommended by teachers