Download printable Other Subjects Class 10 Worksheets in pdf format, CBSE Class 10 Painting Methods And Materials of Painting Worksheet Set A Solved has been prepared as per the latest syllabus and exam pattern issued by CBSE, NCERT and KVS. Also download free pdf Other Subjects Class 10 Assignments and practice them daily to get better marks in tests and exams for Grade 10. Free chapter wise worksheets with answers have been designed by Standard 10 teachers as per latest examination pattern
Worksheet for Class 10 Other Subjects Painting Methods And Materials of Painting
Class 10 Other Subjects students should refer to the following printable worksheet in Pdf for Painting Methods And Materials of Painting in Grade 10. This test paper with questions and solutions for Standard 10 Other Subjects will be very useful for tests and exams and help you to score better marks
Painting Methods And Materials of Painting Class 10 Other Subjects Worksheet Pdf
PAINTING
THEORY Unit – II – (a) METHODS AND MATERIALS OF PAINTING
Materials of Painting
The materials of painting can be broadly classified into 3 categories:
(A) Tools
(B)Surfaces
(C)Medium
(A)Tools of Art
Tools of visual art are the physical materials which are used to create the artwork which we see. The tools are not used to create a mark on the surface. The general examples of tools are erasers, pencil sharpeners, brushes for painting, palettes, masking tape, drawing boards, easels etc.
1. Erasers
Eraser is used to rub off a mistake made in a pencil drawing. Non dust erasers are preferred in drawing because they leave the surface clean without small residual dust. There is also a kneading eraser or putty eraser to erase minute details.

2. Pencil Sharpeners
There are a number of ways that pencils can be sharpened: handheld pencil sharpeners, sandpaper blocks, and even the old-fashioned way using a knife. If you need a smooth lead and a sharp tip in your drawing, sharpener is an easy option.
Try using a sharpener with a larger opening, which will be gentler on the pencil. This will make a smaller angle on the pencil, and the wastage of the lead will be lesser. Many artists use only knife in art and no mechanical sharpeners at all. With a knife you can expose a longer lead which will last more while shading large areas. This will also give more coverage when held at an angle. Sandpaper blocks help in making the lead smooth and also creating a sharp tip.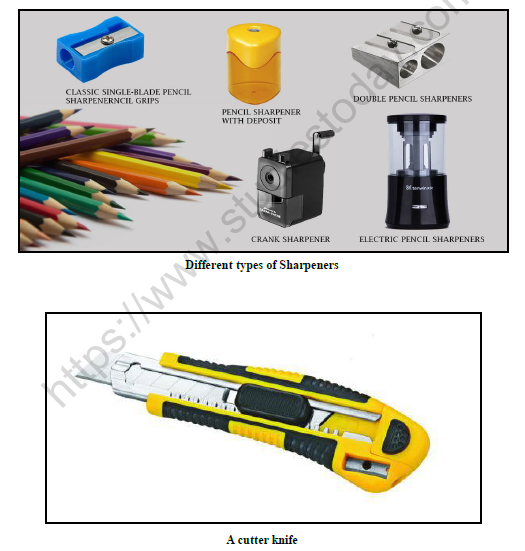 Please click on below link to download CBSE Class 10 Painting Methods And Materials of Painting Worksheet Set A Solved