CBSE Class 10 English Full Study Material. Learning the important concepts is very important for every student to get better marks in examinations. The concepts should be clear which will help in faster learning. The attached concepts made as per NCERT and CBSE pattern will help the student to understand the chapter and score better marks in the examinations.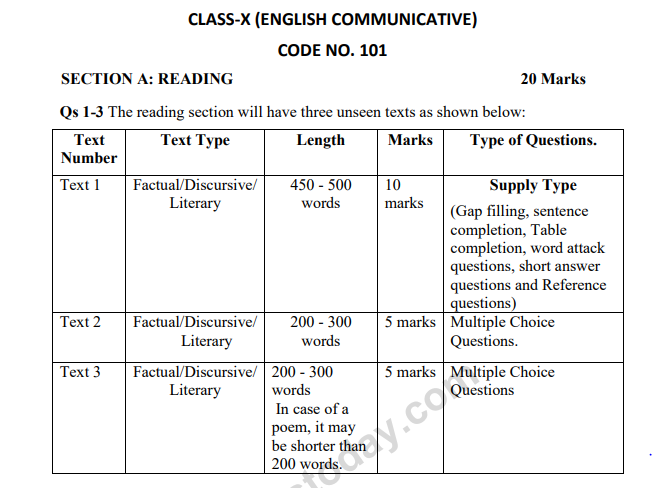 The writing section comprises four writing tasks as indicated below.
Q. 4 A short composition of upto 50 words in the form of a Notice, Message or Diary Entry. 
Questions 4 & 5 will assess students' skill of expressing ideas in clear and grammatically correct English, presenting ideas coherently and concisely, writing a clear description, a clear account of events, expanding notes into a piece of writing, transcoding information from one form to another or using a style appropriate for a notice, message or diary entry.
Q. 5 A composition of upto 100 words in the form of Biographical sketch, Data Interpretation, Dialogue writing or Description (People, Objects or Events)
Q. 6 An extended writing task of length upto 120 words in the form of a Formal/Informal Letter or Email. The long piece of writing will assess the use of appropriate style, language, content and expression.
Q. 7 An extended writing task of length upto 150 words in the form of an Article, Speech, Report or Story.Students' skill in expressing ideas in clear and grammatically correct English, planning, organising and presenting ideas coherently by introducing, developing and concluding a topic, comparing and contrasting ideas and arriving at a conclusion, presenting an argument with supporting examples, using an appropriate style and format and expanding notes into longer pieces of writing and creative expression of ideas will be assessed.
Qs 6 & 7 will make use of a visual/ verbal stimulus.
Important Note on Format and Word Limit:
• Format will not carry any separate marks and in most cases, format will be given in the questions paper.
• The word limit given is the suggested minimum word limit. No candidate may be penalised for writing more or less than the suggested word limit provided the topic is covered and adequately. Stress should be on content, expression, coherence and relevance of the content presented.
SECTION C: GRAMMAR 
This section will assess Grammar items in context for 20 Marks. It will carry 5 questionsof 4 marks each.
Questions 8 & 9 will have Multiple Choice Questions. The test types for MCQs include the following:
• Gap filling
• Sentence completion
• Dialogue completion
Questions 10,11 & 12 will be based on response supplied by students (Supply Type). The test types will include the following:
• Sentence reordering
• Editing
• Omission
• Sentence transformation
Please click the link below to download pdf file for CBSE Class 10 English Full Study Material.

For more study material for English please click here -
English