CBSE Class 10 English Communicative - Reading. Learning the important concepts is very important for every student to get better marks in examinations. The concepts should be clear which will help in faster learning. The attached concepts made as per NCERT and CBSE pattern will help the student to understand the chapter and score better marks in the examinations.
SECTION-A
READING
SPECIFIC TIPS TO ENHANCE YOUR MARKS
For those who score between 15-18 marks
1. Reading cards upto No. 50
2. Newspaper articles of different  types and lengths. Focus on topics like great personalities, events, latest scientific research, environment etc.
3. Newspaper article study :- read, study, find meanings of difficult words and write the summary.
For those who score between 11-14 marks.
1. Reading cards upto No.40
2. Reading books on varied subjects. Eg. Nature, science, science-fiction, travel, latest education trends, great personalities in different fields.
For those who score below 11 marks
1. Reading cards of the level and class you understand easily.
2. Read several small passages on different subjects. Refer the dictionary if required.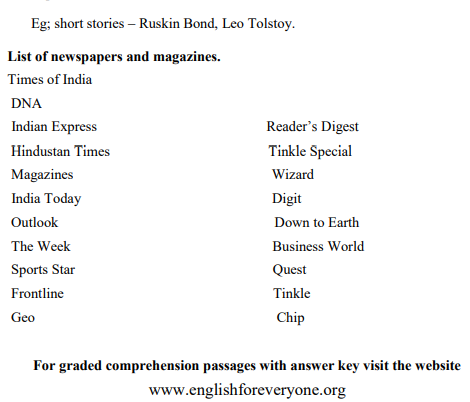 1. Read the passage carefully:
How my Life changed its Course 10 marks
1. Ever since I can remember, I always felt I was stupid, really stupid. I lost my father when I was three. Since I was a sick child, a polio victim, I lived with my grandmother in Mumbai so I could avail of the metro's advanced medical facilities. I remember being on the streets all day, playing or lazing around.
2. When I turned ten, my mother and my sister came to live in Mumbai too. My sister was a bright student, always securing high grades. She and my mother encouraged me to study, but I just could not bring myself to concentrate on any subject. I would get bored and feel sleepy when forced to open my books. After innumerable lectures on the importance of studying had failed, mother tried threats as well, but nothing worked, I truly believed I was stupid; no matter how much I worked, it wouldn't help.
3. One afternoon, as always, I was sitting under a tree in the school premises eating potato wafers when I saw a former classmate approaching me. Aditi and I had been in the same class the year before. I had failed sixth grade and had to repeat the year; Aditi had topped the class and was the brightest student of the seventh grade too. I flinched a little Aditi as I saw her walk towards me.Hi,' she said. Hi,' I replied, but not with much enthusiasm; I wanted her to leave. I continued to eat my chips. Ignoring my coldness, she sat down next to me. For five minutes neither of us spoke and then she asked, Is Devika your real sister?' Yes, she is, I answered.
4.So how come she doesn't teach you so that you too can do well? she asked. I peered at her, wondering if she was making fun of me, but all I could see on her face was earnestness. No, she is not trying to tease me, I decided. This time I answered a little more warmly, She tries to, but I don't like studying.' Why not? I'm sure you can get good grades too,' she said emphatically.No, I can't. I have no brains. God forgot to give me brains, health or beauty. He gave me nothing.'
5. That's not true. And anyway, health and beauty can't be helped, but God has given brains to everyone, we only have to learn to use it.' I shook my head, No, I have difficulty in concentrating, and books bore me; there is no hope for me. Please leave me alone. I am stupid, and always will be.' With the gentlest tone that she could muster she said, I can prove it to you that you are not stupid. Give me one chance, I will teach you to study.'
6. Though I was softening from inside, I still held on to my low self-esteem. You'll be wasting your time.I cannot study, I am not as bright as you are nor lucky as my sister,' I said Let me try and help you, please. I will show you the right way to study. You just have to cooperate with me. Will you try?' Her belief in me proved more powerful than my doubts about myself. She won and I relented. 
Please click the link below to download pdf file for CBSE Class 10 English Communicative - Reading.
Click for more English Study Material
›