Photoshop Continued
Photoshop Vector tools
Vector shapes are lines and curves you draw using the shape or pen tools. Vector shapes are resolutionindependent— they maintain crisp edges when resized, printed to a PostScript printer, saved in a PDF file, or imported into a vector-based graphics application. You can create libraries of custom shapes and edit a shape's outline (called a path) and attributes (such as stroke, fill color, and style).Paths are outlines that you can turn into selections, or fill and stroke with color. You can easily change the shape of a path by editing its anchor points. A work path is a temporary path that appears in the Paths panel and defines the outline of a shape.
You can use paths in several ways:
Use a path as a vector mask to hide areas of a layer
• Convert a path to a selection.
• Fill or stroke a path with color.
Designate a saved path as a clipping path to make part of an image transparent when exporting the image to a page-layout or vector-editing application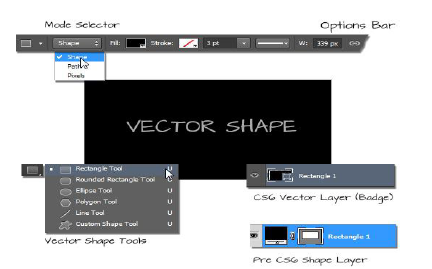 Basic Vector paths
A path consists of one or more straight or curved segments. Anchor points mark the end points of the path segments. On curved segments, each selected anchor point displays one or two direction lines, ending in direction points. The positions of direction lines and points determine the size and shape of a curved segment. Moving these elements reshapes the curves in a path.
A. Curved line segment
B. Direction point
C. Direction line
D. Selected anchor point
E. Unselected anchor point

A path can be closed, with no beginning or end (for example, a circle), or open, with distinct end points (for example, a wavy line). Smooth curves are connected by anchor points called smooth points. Sharply curved paths are connected by corner points.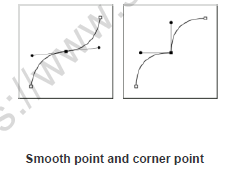 When you move a direction line on a smooth point, the curved segments on both sides of the point are adjusted simultaneously. By comparison, when you move a direction line on a corner point, only the curve on the same side of the point as the direction line is adjusted.
Click for more Computer Science Study Material
›