Read and download CBSE Class 7 Social Science Question Paper Set 2 Solved designed as per the latest question paper pattern and Class 7 examination guidelines issued by CBSE, NCERT and KVS. The past year Question Papers for Class 7 Social Science have been provided with solutions which will help students to assess their performance and find out topics in Social Science grade 7 which they need to improve to get better marks in Standard 7 exams. After solving these last year papers also refer to solved Sample Papers for Class 7 Social Science available on our website to build strong understanding of the subject
Social Science Question Paper Class 7
Students can refer to the below Class 7 Social Science Question Paper designed to help students understand the pattern of questions that will be asked in Grade 7 exams. Please download CBSE Class 7 Social Science Question Paper Set 2 Solved
Social Science Class 7 Question Paper
SECTION A
Qns 
1. 

FILL IN THE BLANKS WITH APPROPRIATE WORDS. 
a. The legends of Radha-Krishna were enacted in folk plays called _________
b. With electronic typewriters ________ underwent a sea change in the1940's.
c. Tropical Evergreen Forests are also called tropical __________.
d. Indian ___________ recognizes all Indians equal before the law.
2.

NAME THE FOLLOWING WITH APPROPRIATE ANSWER.
a. The movement of air from high pressure area to low pressure areas.- _______
b. Was named by the Dutch settlers before South Africa was colonised by the British.- ________
c. An African American woman who refused to give up her seat on a bus to a white on 1 December 1955. - ______________
d. The ruler who constructed red fort - ______________
3.

CHOOSE THE CORRECT ANSWER.
a. High tides help in ____________________.
i. Condensation       ii. Navigation        iii. Evaporation
b. Temperate grasslands of North America. _______________
i. Prairies               ii. Veld                 iii. Downs
c. Ceremonial hall for 'public' audience built by the Mughals. ____________
i. Diwan-I- Nama         ii. Diwan-I- Khaas         iii Diwan-I- Am
d. Merino is a species of __________.
i fish                   ii Elephant              iii Sheep
4.

MATCH THE FOLLOWING:
A                                                 B                      RESPONSES
1. Large stepped- wells.           a. Kathaks              1. ______
2. To quench the thirst.            b. Baolis                2. ______
3. A caste of story tellers in      c. Animal               3. ______
the temples of north India.
4. Kudu                                   d. Water                 4. ______
5.

On the given outline map of the world mark and label the following:
a. Grassland of South America
b. Veld
c. Grasslands of Australia.
6.

Identify the layers given in the diagram and fill in the blanks: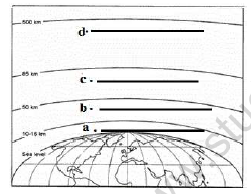 1. Identify layer c .The ________ burn up in this layer on entering from the space.
2. Identify layer b.This layer contains ______ layer which protects us from ultra violet radiation.
SECTION –B
Answer the following
7. Thorny bushes are found in which type of climate? 
8. Who was the last Nawab of Awadh? 
9. Name the living document of India which has a real meaning in our lives. 
10. Burning of fossil fuels will lead to increase of which gas? 
11. Who were called Iqtadars or Muqtis? What were the duties of Iqtedars or Muqtis during Delhi Sultanate period and what did they get in return from Sultans?
12. Write a short note on Sulh-I kul. 
               OR
State the role of Zamindar in Mughal Empire?
13. 'Muhammad Tughluq's administrative measures were a failure'. Justify in any three points.
14. Give a brief description of three types of wind. 
15. State the causes for the peasant and zamindari rebellions in northern and western India and state its consequences.
16. Write a note on Social Advertising?
Please click on below link to download CBSE Class 7 Social Science Question Paper Set 2 Solved
Books recommended by teachers