Download printable English Class 5 Worksheets in pdf format, CBSE Class 5 English Nobodys Friend Worksheet has been prepared as per the latest syllabus and exam pattern issued by CBSE, NCERT and KVS. Also download free pdf English Class 5 Assignments and practice them daily to get better marks in tests and exams for Grade 5. Free chapter wise worksheets with answers have been designed by Standard 5 teachers as per latest examination pattern
1. Write words ending with - full -ness – less: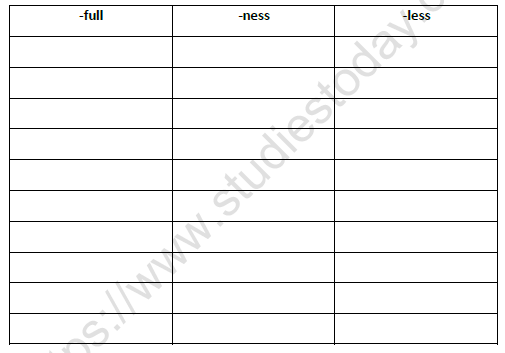 2. Read the given sentences and underline the "no" word in each.
1.We thought that no one would help us on the highways.
2.The snake was found nowhere.
3.None of them could help her.
4. I could give nothing to him on her birthday.
5. We were about to lose but we never gave up.
6. Ram said nothing to the coach.
7. Sita says no to deforestation.
3. Complete the following with the clues given in the box:

1. As brave as        __________________
2. As gentle as       __________________
3. As sweet as        __________________
4. As red as            __________________
5. As slow as          __________________
6. As cunning as     __________________
7. As light as          __________________
8. As dark as          __________________
9. As white as        __________________
10.As light as        __________________
11.As save as        __________________
4. Fill in the blanks using the given clues:
1. Typing in a typewriter is ___________________ than typing in system. (difficult)
2. Swimming is the ____________ exercise than any other exercise.(good)
3. He is _____________ than any other boys in the class.(gentle)
4. He found out the ___________ way to solve the problem.(simple)
Click for more English Study Material
›