Read and download NCERT Class 11 Home Science Relationships and Interactions chapter in NCERT book for Class 11 Home Science. You can download latest NCERT eBooks for 2022 chapter wise in PDF format free from Studiestoday.com. This Home Science textbook for Class 11 is designed by NCERT and is very useful for students. Please also refer to the NCERT solutions for Class 11 Home Science to understand the answers of the exercise questions given at the end of this chapter
Relationships And Interactions Class 11 Home Science NCERT
Class 11 Home Science students should refer to the following NCERT Book chapter Relationships And Interactions in standard 11. This NCERT Book for Grade 11 Home Science will be very useful for exams and help you to score good marks
Relationships And Interactions NCERT Class 11
RELATIONSHIP AND INTERACTION WITH 'SIGNIFICANT   OTHERS' A. FAMILY
LEARNING   OBJECTIVES
After completing this section the learner is able to—
• understand the meaning and definition of family.
• explain the importance of the family and its functions.
• describe the functions of family for overall development of the individual.
• a gain knowledge  of the family life cycle.
• analyse  dynamics  within the family.
• understand the importance of effective communication in the family.
IMPORTANCE OF FAMILY
The pictures show you scenes of children in their homes. Notice that there are adults taking care of children, including some older people. In some pictures there is only a mother or father and children. They are all related to each other by blood or through marriage or adoption. One thing common to all situations regardless of the socio-economic or cultural variation is that there are at least two or more than two generations of persons staying together, i.e., mother and children, grandparents and children, parents and adult unmarried children, related to each other by blood or marriage.An exception is that of two adults, a husband and wife, who are of the same generation, and yet they form the beginning of a family.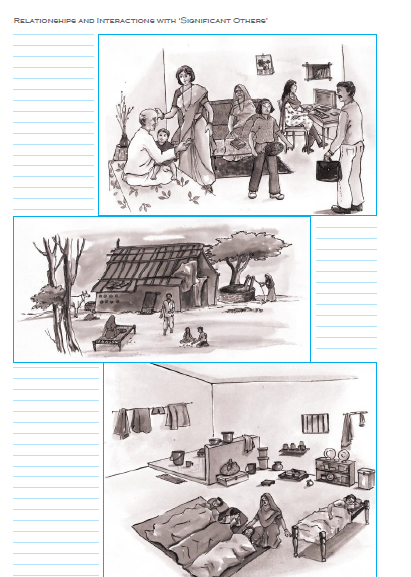 Click on the below link to download NCERT Class 11 Home Science Relationships and Interactions