Read and download NCERT Class 11 Home Science Media and communication technology chapter in NCERT book for Class 11 Home Science. You can download latest NCERT eBooks for 2022 chapter wise in PDF format free from Studiestoday.com. This Home Science textbook for Class 11 is designed by NCERT and is very useful for students. Please also refer to the NCERT solutions for Class 11 Home Science to understand the answers of the exercise questions given at the end of this chapter
Media And Communication Technology Class 11 Home Science NCERT
Class 11 Home Science students should refer to the following NCERT Book chapter Media And Communication Technology in standard 11. This NCERT Book for Grade 11 Home Science will be very useful for exams and help you to score good marks
Media And Communication Technology NCERT Class 11
MEDIA  AND COMMUNICATION  TECHNOLOGY
LEARNING OBJECTIVES
After completing this chapter the learner is able to —
• define the concept of communication.
• discuss the significance of communication in everyday life.
• enlist the different types of communication.
• describe the process of communication.
• explain the classification and functions of media.
• analyse the various communication technologies.
An important field of study that has an impact on adolescents is that of  media and communication. In this chapter we will discuss how these two aspects of our everyday ecology have become an integral part of our lives, usually adding to the quality of our lives. We will begin with the concept of communication first.
6.1 COMMMUNICATION AND   COMMUNICATION TECHNOLOGY
Communication is very basic and vital for human survival and has existed since the inception of life on earth. In modern times, with fast developing technologies, new communication methods and gadgets are introduced in the market almost every week. Some of these have become more popular due to their cost effectiveness and utility, and have sustained over time. Observe the following pictures and interpret the situation, feelings   and   thoughts of the different persons.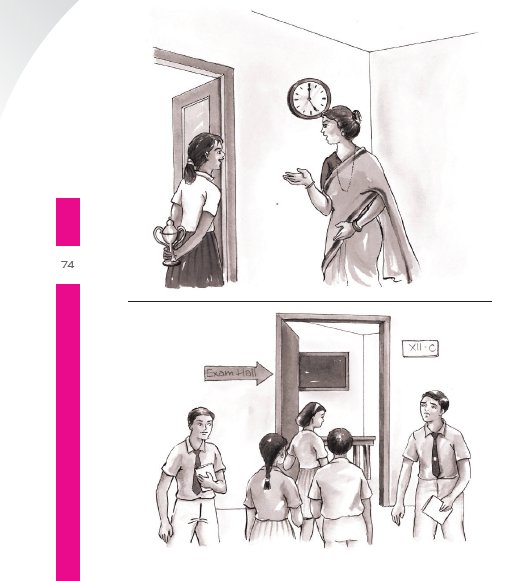 Click on the below link to download NCERT Class 11 Home Science Media and communication technology