Read and download CBSE Class 6 Maths Activity 11 chapter in NCERT book for Class 6 Mathematics. You can download latest NCERT eBooks for 2022 chapter wise in PDF format free from Studiestoday.com. This Mathematics textbook for Class 6 is designed by NCERT and is very useful for students. Please also refer to the NCERT solutions for Class 6 Mathematics to understand the answers of the exercise questions given at the end of this chapter
Activity 11 Class 6 Mathematics NCERT
Class 6 Mathematics students should refer to the following NCERT Book chapter Activity 11 in standard 6. This NCERT Book for Grade 6 Mathematics will be very useful for exams and help you to score good marks
Activity 11 NCERT Class 6
To determine the number of lines of symmetry of following shapes by paper folding -
(a) equilateral triangle (b) isosceles triangle
(c) square (d) rectangle
(e) rhombus
Learning Objective : To understand line symmetry of plane figures and draw their lines of symmetry.
Pre-requisite : Knowledge of line symmetry of plane figures.
Materials Required : Cutouts of the geometrical figures, equilateral triangle, isosceles triangle square, rectangle and rhombus.
Procedure:
Step 1. Take a cutout of an equilateral triangle. Fold it through a vertese so that the two parts of the triangle cover each other exactly, Fig 11(a).
Step 2. Unfold and mark the crease or the line of fold. The triangle is said to have a symmetry called line symmetry. This line of fold is called a line of symmetry of the triangle.
Step 3. Fold the triangle again in the same way through other two vertices Fig. 11(b) to get two more lines of symmetry.
Step 4. Now take a cutout of an isosceles triangle and follow Steps 1 and 2 above. Mark the line of symmetry, if any.
Step 5. Repeat the activity by taking cut out of a square, a rectangle and a rhombus. Mark lines of symmetry in each case, if any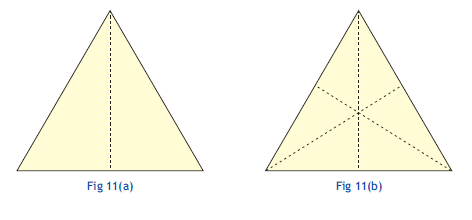 Please refer to the link below - CBSE Class 6 Maths Activity 11