CBSE Class 11 English Reading Passage 1. Learning the important concepts is very important for every student to get better marks in examinations. The concepts should be clear which will help in faster learning. The attached concepts made as per NCERT and CBSE pattern will help the student to understand the chapter and score better marks in the examinations.
SECTION : (Reading)
This section will have three unseen passeges followed by a variety of questions including those on vocabulary, such as word formation and inferring meaning for 05 marks. Total length of the three passages shall be around 1100 words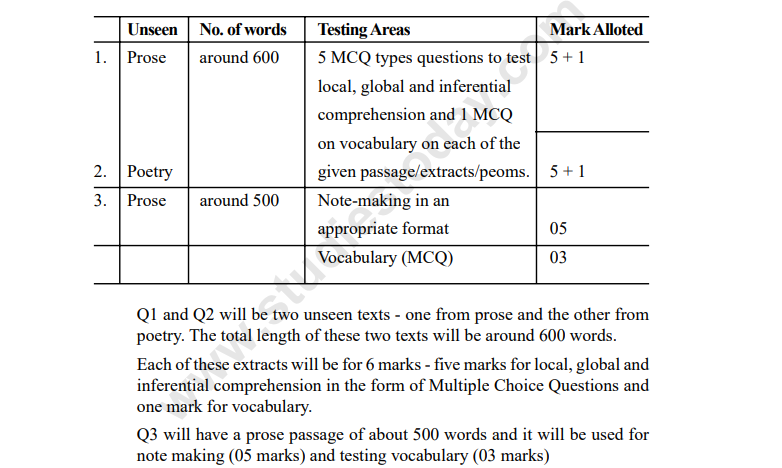 SECTION : A (Reading)
Passage : 1
A.1 Read the passage given below and write the options that you consider the most appropriate. 
In this country, women, men and children have too oftern been attacked because of their identify as Dalits or tribals, religious or linguistic minorities. A recurring feature of such brutal hate crimes and mass violence is that elected and selected public officials fail to uphold their Constitutional duty: to secure equal protection to every citizen, regardless of their caste, faith or linguistic identity.
They fail not because they lack the mandate, authority or legal powers but because they choose to fail, because the pervasive prejudice against these disadvantaged groups permeates large sections of the police, magistrace, judiciary and the political class. Based on my experience as a district officer, I am convinced that no riot or anit-Dalit massacre can continue for more than a few hours without the active collusion of the State. But public officials enabling massarce is not recognised explicitly as a crime. Officials who have been named as guilty of bias in numerous judicial commissions of enquiry have rarely been penalised.
A similar culture of impunity surrounds those who instigate and participate in murder, arson and rape. Impunity is the assurance that you can openly commit a crime and not be punished. This impunity arises from infirmities in, and corrosion of, the criminal justice system. The collapse of the justice machinery is compounded when the victims are disadvantged by caste, religion, or minority language. You are more likely to be punished when you murder a single person in 'peace time' with no witnesses, than if you slay 10 in broad daylight observed by hundreds of people.
A careful study of major episodes of trageted violence have shown that despite being separated in time and space, there is a similarity in the systematic and active subversion of justice. The impunity of the accused begins immediately after the violence. Preventive arrests and searches usually target Dalits and minorities. Police refuse to record the names of killers, rapists and arsonists and instead refer to anonymou mobs. If victims assert, 'cross-cases' are registered against them, accusing them of crimes.
Arrests are partisan, the grant of bail even more so. Accused persons from dominant groups find it easy to get bail in weeks, or at most months, while those caught in 'cross-cases' are not released, sometimes for years. This openly discriminatory treatment of the accused based on whether they are from dominant or discriminated groups, is one way to coerce them to 'compromise. It amounts to extra-legal out-of-court 'agreement' by victims to turn 'hostile' and retract from their accusations in court. Victims are intimidated, offerecd inducements or threatened with exile or social boycutt. Police investigation is deliberately shoddy, and most cases are closed even befor they come to trial. The few that reach the court are demolished by the prosecution.
It is agreed that no new laws are required to empower state officials to control targeted violence. Most crime already exist in statute books, and no greater punishment is called for. The National Advisory Council's (NAC) draft Communal and Targeted Violence Bill does create a few new crimes - sexual assault, hate propaganda and torture - but these can be written into the Indian Penal Code.
To discourage targated hate-crimes in future, we require a law that creates the offence of dereliction of duty of public officials who deliberately fail to protect vulnerable groups. This must be coupled with the principle of command responsibility, which ensures that responsibility for failing to act is carried to the level from which orders actually flow. This public accountability is at the heart of the NAC draft Bill.
A. Dalits, tribal and people of religious and lingnistic minorities are attacked when .....
i) their strength is weakend
ii) their identity is known
iii) they become careless.
iv) they oppose a political party.
B. The public officials fail in protecting citizens because ....
i) they lack mandate and authority.
ii) they get afraid of criminals
iii) they opt to fail
iv) they do not have legal powers.
C. The author's experience shows that the public officials enabling Dalit massacre are .....
i) protected by politicians
ii) not strong to stop massacre
iii) actually goons in disguise
iv) rarely penalised.
D. The ineffective criminal justice system has given rise to ....
i) impunity
ii) infirmity
iii) ingenuity
iv) insincerity
Please click the link below to download pdf file for CBSE Class 11 English Reading Passage 1.
Click for more English Study Material
›