Download Class 9 Computer Science Review Of Photoshop Notes in PDF format. All Revision notes for Class 9 Computer Science have been designed as per the latest syllabus and updated chapters given in your textbook for Computer Science in Standard 9. Our teachers have designed these concept notes for the benefit of Grade 9 students. You should use these chapter wise notes for revision on daily basis. These study notes can also be used for learning each chapter and its important and difficult topics or revision just before your exams to help you get better scores in upcoming examinations, You can also use Printable notes for Class 9 Computer Science for faster revision of difficult topics and get higher rank. After reading these notes also refer to MCQ questions for Class 9 Computer Science given our website
Review Of Photoshop Class 9 Computer Science Revision Notes
Class 9 Computer Science students should refer to the following concepts and notes for Review Of Photoshop in standard 9. These exam notes for Grade 9 Computer Science will be very useful for upcoming class tests and examinations and help you to score good marks
Review Of Photoshop Notes Class 9 Computer Science
REVIEW OF PHOTOSHOP
An image editing software developed and manufactured by Adobe Systems Inc. Photoshop is considered one of the leaders in photo editing software. The software allows users to manipulate, crop, resize, and correct color on digital photos. The software is particularly popular amongst professional photographers and graphic designers.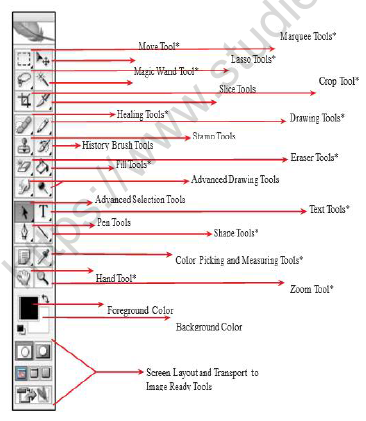 Opening & Saving
OPENING A FILE: Opening a file is easy, just do Menu > File > Open…Navigate to the file and highlight it, then click OK.
Steps:
1. Open Photoshop
2. click File > Open >navigate to document, click once on it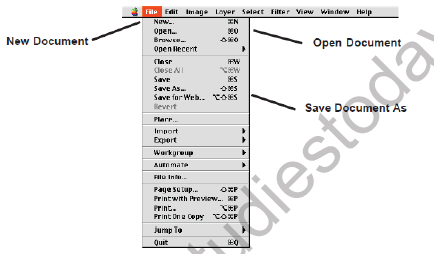 SAVE DOCUMENT AND THE FORMAT
Formats:
1. .PSD This is the Photoshop format and it preserves layers.
2. .JPG This is for the web and is used for graphics on the web.
3. .GIF This is also for the web but is best for text.
4. . TFF A great cross platform format that preserves all quality for printing.
5. .PCT Another good format for print and cross platform.
Steps:
1. Open Photoshop
2. Click File >Open navigate to document, click once on it, click OK.
3. Next let us perform some editing on the image or document
4. Next save it as Work.jpg on the desktop or any other folder
5. Click> File > Save As Change name, navigate to desired save location, Click OK
Scanning a Photograph
1. Open Photoshop.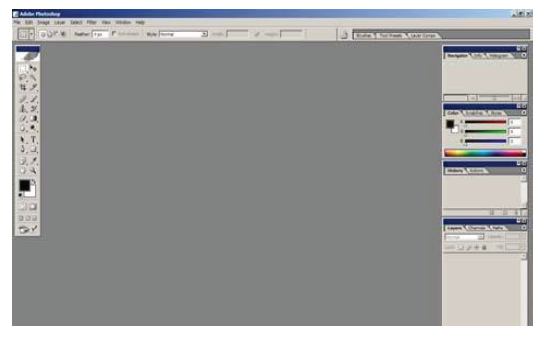 2. Place the image on the flatbed scanner.
3. Click on File  Import, and choose your scanner name eg.hp scanjet 8200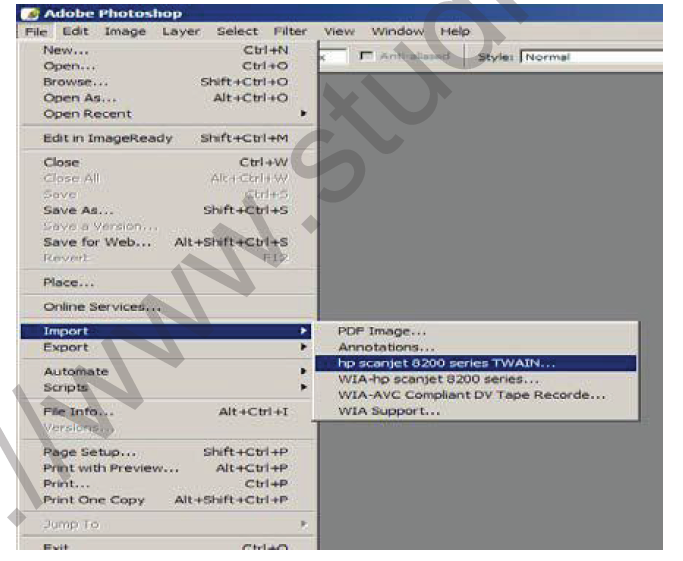 4. The scanner will do a preliminary scan of the image and let you preview it. Do not remove the image from the scanner.
5. Click on Accept to scan. The scanner will scan the image again, flipping and cropping it to your specifications.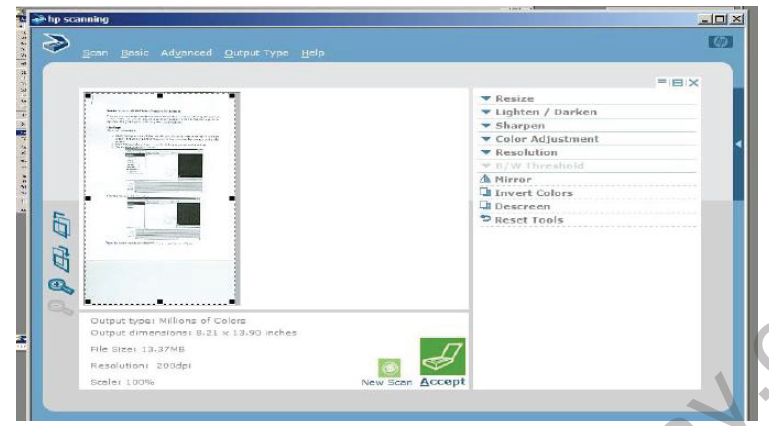 6. If the image is still not correct, you can do some editing with Photoshop (see below).
7. When you have a finished image, go to File Save As... to save your image. Make sure you change the image type from .psd (Photoshop document) to .jpg (JPEG) in the pull-down menu. .psd files can only be viewed in Photoshop, but .jpg can be viewed anywhere.