Download printable Business Studies Class 11 Worksheets in pdf format, CBSE Class 11 Business Studies Worksheet Set F Solved has been prepared as per the latest syllabus and exam pattern issued by CBSE, NCERT and KVS. Also download free pdf Business Studies Class 11 Assignments and practice them daily to get better marks in tests and exams for Grade 11. Free chapter wise worksheets with answers have been designed by Standard 11 teachers as per latest examination pattern
Business Studies Worksheet for Class 11
Class 11 Business Studies students should refer to the following printable worksheet in Pdf in Grade 11. This test paper with questions and solutions for Standard 11 Business Studies will be very useful for tests and exams and help you to score better marks
Class 11 Business Studies Worksheet Pdf
1. What do you mean by formal and informal group? 
2. Define partnership. Is it compulsory to get a partnership firm registered? 
3. Explain formal groups and its various types. 
4. Differentiate between a public company and private company. 
5. What is Organizational Behavior? Explain any five of its characteristics.
VALUE POINTS
1. A formal group is one which is created by the organization and has designated work assignments and routed tasks. The informal groups are formed naturally and spontaneously by people when they work together over a period of time in an organization.

2. A partnership is the relation between the persons who are agreed to share the profit of the business carried on by all or any one of them acting for all. It is optional for a partnership firm to be got it registered. However in the case when the partnership firm is not registered, the partners may not be able to enjoy the benefits which a registered partnership firm enjoys.

3. Formal groups are created by the organization for specific purposes which have designated work assignments and tasks. The behavior of such groups is directed towards achieving organizational goals. .
The various types of formal groups are :
a. Command group
b. Task group
c. Functional groups
Point with explanations

4. The difference between public and private companies are :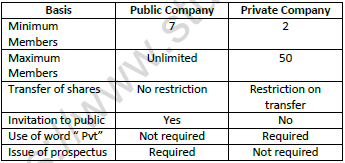 Any 5 differences

5. Organizational behavior is a sub set of management activities concerned with understanding, predicting and influencing individual behavior in the organizational settings.
Characteristics of organizational behavior are :
a. Cause and effect relationship
b. It is a branch of social science
c. Three levels of analysis
d. It is science as well as an art
e. Beneficial to both organization and individuals
f. A body of theory, research and application.
g. Rational thinking
Please click on below link to download CBSE Class 11 Business Studies Worksheet Set F Solved
Click for more Business Studies Study Material
›