CBSE Class 10 Home Science Syllabus 2019 2020 available in Pdf for free download. The latest syllabus for Class 10 Other Subjects have been issued by CBSE based on which Grade 10 students will have to prepare for examinations by CBSE, NCERT and KVS in Standard 10. The latest CBSE syllabus has been used to design NCERT book for Class 10 Other Subjects based on which exams for Grade 10 Other Subjects will be conducted. Refer to MCQ Questions for Class 10 Other Subjects with answers and also download more latest study material for all subjects
Home Science Class 10 CBSE Syllabus
Class 10 Other Subjects students should refer to the following curriculum for NCERT Class 10 Home Science. These CBSE NCERT KVS Syllabus for Grade 10 Other Subjects will be very useful for preparing for upcoming exams and help you to score good marks
Home Science CBSE Syllabus Class 10
CBSE Class 10 Home Science Syllabus 2019 2020. Download the latest syllabus for 2019 2020 released by CBSE to do your studies as per the latest guidelines issued by CBSE NCERT. The syllabus, weightage of chapters, blue print of question papers and the design of question papers is issued every year for the benefit of students. Access and download syllabus for all subjects here.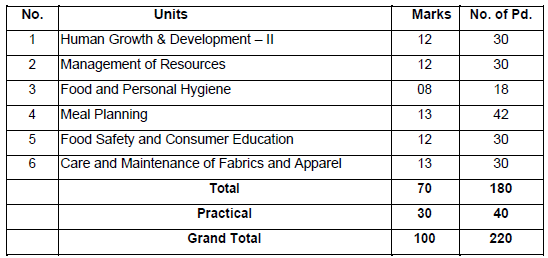 Unit I : Human growth & development II 
a) Play (0-5 years), role of play in growth & development of children. Types of play-active, passive, natural, serious and exploratory, selection of play
material for children.
b) Childhood. Adolescents and Adulthood : Special Features.
c) Problems of Adolescents
d) Old Age : Need of care
Unit II : Management of Resources : Time, Energy & Money 
a) Time Management - Definition & Importance
b) Time plans - Factors affecting time plan
c) Energy Management : Definition and Importance
d) Fatigue and work Simplification
e) Family Income & Types : Expenditure & Importance of Saving and
Investment Schemes (Only Listing)
Unit III : Food & Personal Hygiene 
a) Principles of hygienic handling of food, including serving of food.
b) Hygiene in kitchen
c) Personal hygiene of food handler
d) Hygiene during food storage
Unit IV : Meal Planning
a) Concept of Meal Planning
b) Factors affecting meal planning : age, sex, climate, occupation, cost of food items, number of family members, occasion, availability of food, family
traditions, likes and dislikes
c) Basic food groups
d) Use of food groups in planning balanced diet, in context of self. RDA Protein and Energy-ICMR (2010) and its uses in family diets
Unit V : Food Safety and Consumer Education 
a) Food Safety, mal-practices of traders, price variation, poor quality, Faulty weights and measures, non-availability of goods, misleading information,
lack of standardized products
b) Food adulteration : Concept, adulterants & harmful effects of adulteration, FSSAI Standards (2006)
c) Consumer Rights and problems faced by consumer, redressal and rights (Listing)
d) Sources of Consumer Education - Govt & Non-Govt. Agencies (Only listing)
Please click the link below to download CBSE Class 10 Home Science Syllabus 2019 2020.
Books recommended by teachers